Sunset Adventure Combo

SPECIAL DEAL

SAVE 55% ONLINE
Sunset Adventure Combo
If you're searching for a unique and unforgettable experience in Cabo San Lucas, a camel ride should be at the top of your list. Camel rides are becoming increasingly popular in Cabo San Lucas, providing visitors with a once-in-a-lifetime opportunity to explore the stunning Baja California landscape in a unique and unforgettable way. The Baja California peninsula is home to a variety of incredible landscapes, from rugged mountains to pristine beaches and everything in between. A camel ride is the perfect way to explore this diverse terrain and soak up the natural beauty of the region. One of the most popular camel ride experiences in Cabo San Lucas takes visitors along the stunning Pacific Coast, where they can take in breathtaking views of the ocean while riding atop a gentle camel. The ride takes visitors through a variety of landscapes, including towering sand dunes and lush palm groves, providing a diverse and unforgettable experience. Camel rides are suitable for visitors of all ages and abilities, making them the perfect activity for families, groups of friends, and solo travelers alike. Experienced guides lead the rides, ensuring a safe and enjoyable experience for all.
In addition to the stunning natural beauty of the region, camel rides in Cabo San Lucas also provide visitors with the opportunity to learn about the history and culture of the region. Many camel ride experiences include stops at local villages and historic sites, where visitors can learn about the indigenous cultures of the region and sample traditional foods.
For those looking for a truly unique and memorable experience, camel rides can also be combined with other activities, such as ATV tours, Dune Buggies, and more. These combo tours provide visitors with a full day of adventure and exploration, allowing them to experience the best of Cabo San Lucas in one unforgettable day.
If you're planning a trip to Cabo San Lucas and want to experience the thrill of a camel ride, there are a few things to keep in mind. First and foremost, be sure to book your camel ride in advance, as these experiences are incredibly popular and can book up quickly. Additionally, be sure to wear comfortable clothing and closed-toe shoes, as well as sunscreen and a hat to protect yourself from the sun. In conclusion, a camel ride in Cabo San Lucas is a truly unforgettable experience that should not be missed. With stunning natural beauty, rich history and culture, and the opportunity for adventure and exploration, a camel ride is the perfect way to experience everything that this incredible region has to offer. So why wait? Book your camel ride today and get ready for an adventure of a lifetime!
When it is time to choose the very best Things to do in Cabo San Lucas during your Vacation look no further. In our Sunset Adventure Combo Tour in Cabo San Lucas choose between 4 different Combinations, select between ATV Riding with Camel Riding, ATV Riding with Horseback Riding, Dune Buggy Riding with Camel Riding or Dune Buggy with Horseback Riding. Safe Money combining 2 Adventures in one single Tour at one of the most Iconic Beaches in Cabo San Lucas. During 2 hours of Adventure you enjoy 2 activities 1 hour each during Sunset Hours. Riding a Camel or a Horse, an ATV or a Dune Buggy through Desert Terrain, Dry Riverbeds and the Iconic Beach of Migriño has become one of the most popular activities in Cabo San Lucas during the year 2023. This Combo Adventure is a must do while on vacation in Cabo San Lucas and Los Cabos.
Age Restrictions:
► Must be minimum 16 Years and carry a valid drivers permit to drive a Vehicle
► Minimum Age for ATV Or Dune Buggy Co-Drivers 7 Years
► Minimum Age for Horseback Riding 6 Years
► Minimum Age for Camel Riding 5 Years
Included:
► Round Trip Transportation
► Choose at Location between the Camel Ride & ATV, Camel Ride & Dune Buggy, Horseback Riding and ATV, Horseback Riding and Dune Buggy
► Each Activity is for 1 hour totaling 2 hours for the Activity
► Professional Tour Guides
► Free Locker with Picture ID
► Tequila Tasting
Not Included:
► Gratuities
► 25 Usd Park Conservation Fee per Person
► Optional Collision Insurance (35 Usd per ATV or 45 Usd per Dune Buggy) or leave an open Credit Card Voucher.
Restriction: The use of Cell Phones and Cameras is not permitted during driving a Motorized Vehicle or Riding a Wild Life Animal due to Mexican and International Laws. Just as anywhere else in the world using a Phone or Camera device represents danger to yourself and other participants and is not allowed.
Tip: You can bring along a Strap on Go Pro that would maintain the Go Pro Camera to your Head or Chest without having to hold and manipulate the device. Professional Photos are being taken and are available for purchase starting at 20 Usd after the Tour if you choose not to bring along your Strap on Go Pro.
Other Off-Road Adventure
ATV Tours in Cabo (Click here for further Information)
ATV Tours in Cabo are widely available and several companies are offering an ATV Tour in Los Cabos. Pricing differs and is according with the quality, safety and service of your ATV Adventure in Cabo. Ride Your ATV through Mountain, Desert, Dry Riverbeds and Beach Terrain accompanied by professional Tour Guides that keep you safe in this Adrenalin filled and fun Adventure.
Dune Buggy Tours with Razor (Click here for further Information)
Real Dune Buggies in Cabo are scarce and not much available, some companies are offering Dune Buggy Tours in Los Cabos. Pricing differs and is according with the quality, safety and service of your Buggy Adventure in Cabo. Ride Your Dune Buggy Razor through Mountain, Desert, Dry Riverbeds and Beach Terrain accompanied by professional Tour Guides that keep you safe in this Adrenalin filled and fun Adventure.
Other Adventure Adrenalin Tours in Cabo
Los Cabos Zip Line Tour (Click here for further Information)
Flying through the Los Cabo Sky on a Zip Line Adventure is an adrenalin filled, safe and fun adventure for Outdoor Lovers and Adrenalin Hunters. Something to get your blood pumping through your veins and enjoy Bird's eye views of a natural hidden away Desert Oasis and Canyon. Great for Families and also Kids above 8 years. Fly alone, in Tandem, 3 or up to 4 people together.
Bungee Jumping in Cabo (Click here for further Information)
Jumping into the abyss of a Canyon Desert Oasis? An incredible safe and fun Bungee experience in Cabo that gets your blood running through your veins, work against your fears and accept a challenge only a few are willing to take on. The 1st step is the always the most difficult followed by freedom and an incredible feeling of having done it.
Cabo Parasailing Tour (Click here for further Information)
Why not Parasailing in Cabo? Another Adrenalin, safe and fun Adventure to do in Cabo for Outdoor and Adventure Lovers. Get a Birds Eye view of the Los Cabos Arch and lands' End alone or in tandem. It is easier than you think and you even can land back on the Boat if you do not want to get wet. Incredible fun and another challenge that you can scribble of your bucket List.
Whale Shark Snorkeling in La Paz (Click here for further Information)
Another fantastic and adventurous option that gets your blood pumping is Swimming and snorkeling beside Giant but gentle Whale Sharks in the La Paz Bay. Definitely also a fantastic Adventure for Outdoor Lovers and Adventure seekers. Plan for a full day of fun and Adventure with stunning sceneries of the Baja.
Snorkeling in Cabo Pulmo National Park (Click here for further Information)
Swimming and snorkeling with Bull Sharks, Giant Turtles, manta rays and other beautiful Sea creatures that get your Blood pumping and is a heaven for Outdoor and adventure lovers. The adventure starts already with getting there, Cabo Pulmo is only accessible via Dirt Roads. Snorkeling in Cabo Pulmo is more expensive but it is worth every penny spent.
Restrictions
Minimum Age 8 Years, Not recommended for people with Back Pain, vertigo or expecting Mothers. A Valid Drivers License is needed if you choose a vehicle. , the use of Cameras or phones is not allowed.
Your adventures includes
Water, Helmet, Goggles, Bandana, Round trip transportation, Tequila Tasting
What to bring?
Cash Money for 20 Usd Park Entrance Fee per person and 35 Usd Collision insurance, Souvenirs and Photos Closed Shoes (No Sandals), Light and comfortable clothing, Sunglasses, Sunscreen, Sunblock and Bug Spray, Drivers License
From $125 to $125 USD 2 hoursEasyFamily 5 year +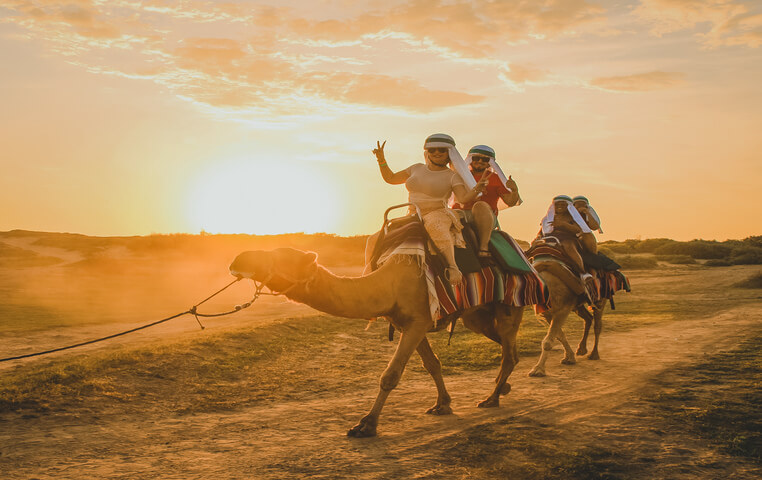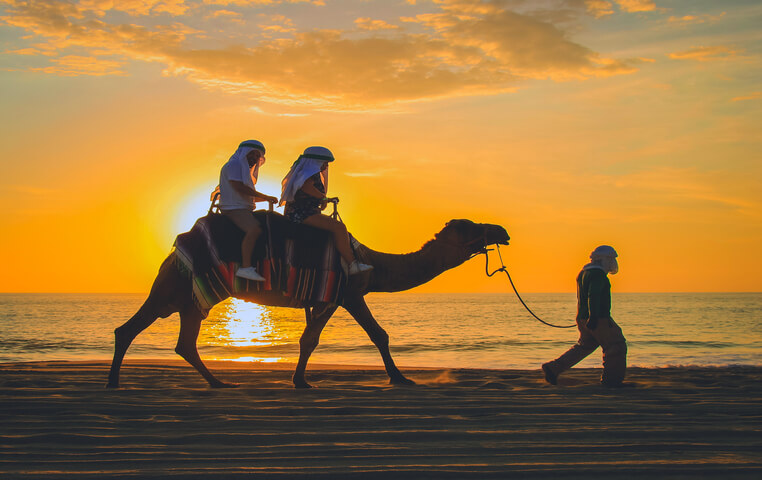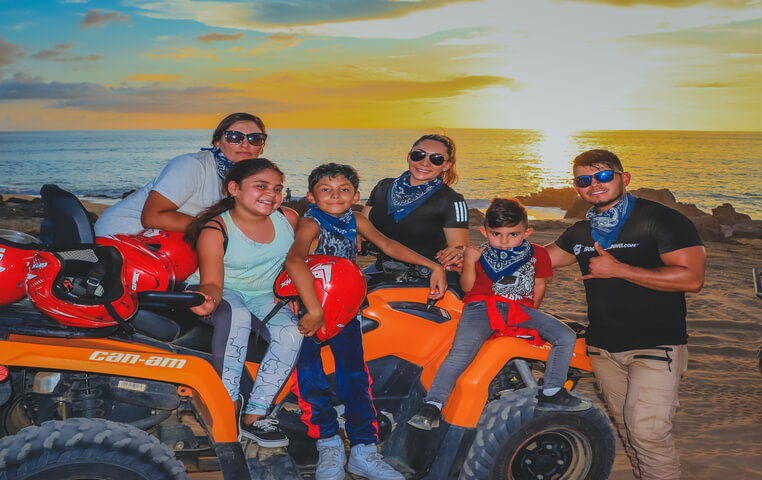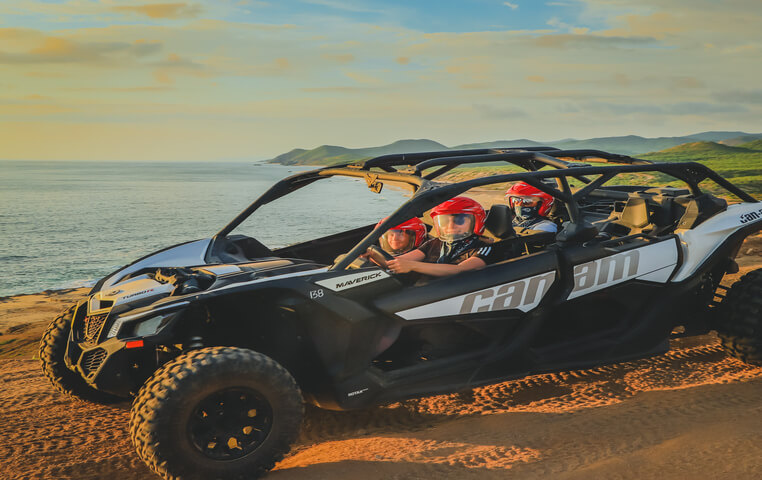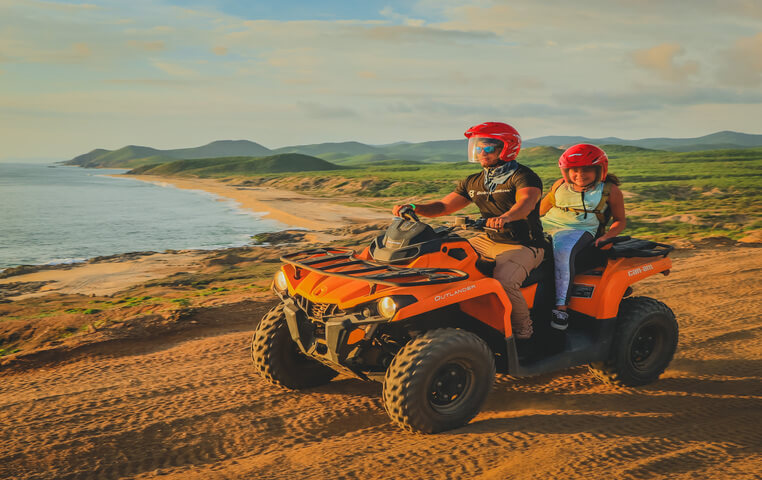 Do not forget to book your Airport arrival and departure transportation.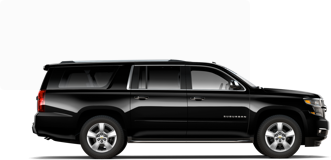 Los Cabos Private Roundtrip Transportation
1-5 passengers
Starting at
$145 USD
Los Cabos Private Roundtrip Transportation
1-10 passengers
Starting at
$140 USD