Thank you for visiting our Cabo Tours Website;
we are passionate professionals enjoying to help visitors to Los Cabos
choosing the best Things to do in Cabo.
Your safety and happiness are our motivation.
CHOOSE THE BEST
CABO TOUR
FOR YOU!
Los Cabos
Located at the southern tip of Mexico's Baja California Peninsula, in the state of Baja California Sur. It includes the two towns of Cabo San Lucas and San José del Cabo connected by a twenty-mile Resort Corridor of beach-front properties and championship golf courses. The area was remote and rural until the late 20th century, when the Mexican government began to develop Cabo San Lucas for tourism, which then spread east to the municipal seat. The main attraction is without doubt the climate and geography, where desert meets the sea, along with an incredible number of fantastic Things to do in Cabo, Tours, Adventure Tours, sport fishing, resorts and golf. Tourism is by far the main economic activity with over four million visitors per year. Over 2 million visits are from the United States.
The growth in San Jose del Cabo has been regulated to outside of the town center, especially to the south where the beaches are, leaving the historic town center quiet and relatively unchanged. There are still cobblestone streets, adobe houses, jacaranda trees and a central square in front of a church that dates from the 1700s, where people still gather in the evening when it is cooler. A number of the large houses in the center date from the 19th century, and most of these have been converted into restaurants, art galleries and shops selling everything from fine handcrafts, silver, local gemstones and souvenirs. The art scene in the town is well-developed because of tourism and people with vacation homes. These shops carry high end paintings, sculptures in from traditional Mexican, Mexican contemporary and international artisans and artists. During the high season from October to May, these galleries stay open late into the night. Every Thursday the Cabo Art Walk event takes places where locals, artist and visitors meet in an unforgettable local Vibe Ambiance with Music, Dance, Food and Art. The town has resisted the addition of large shopping malls and chain stores. There is also some colonial era architecture as well, but this style has more in common with colonial towns to the north into the United States rather than the center and south of Mexico.
Things to do in Cabo, Local Tours and Excursions
Los Cabos, San José del Cabo and Cabo San Lucas has a tremendous variety of Tours and adventures available.
Snorkeling in Los Cabos
You can go snorkeling in Cabo in a small panga boat, a Sailing Boat, a Catamaran, on a Wave Runner, on a Kayak or even directly from the Beach. You can have Tours with open bar and lunch or just go snorkeling. Los Cabos has beautiful areas for snorkeling, Pelicans Rock by Lovers Beach is a famous snorkeling option with thousands of colorful tropical Fish, Chileno Bay or Santa Maria Bay are both Blue Flag certified Beaches with natural coral reefs. Palmilla Beach and Playitas Beach are also great for snorkeling lovers. Or get off the beaten path and go snorkeling in Cabo Pulmo, a national park and protected marine area incredible for snorkeling. Los Cabos is a paradise for Snorkeling Lovers.
Air Adventures in Los Cabos
If you are not afraid of heights Los Cabos offers a variety of Air Adventures, Para Gliding, Parasailing and even a Helicopter ride of Lands' end is available. As those are more adventurous Tours make sure that the supplier or tour you choose is certified and is registered with International safety associations.
Water Sports in Cabo
In Los Cabos you can find a huge variety of Water Sports, with Snorkeling, Diving, Kayaking, Sailing, SUP (Stand up Paddle) to motorized water sports such as Wave Runners, Fly Boards and Sport Fishing. Los Cabos is a Paradise for Water Sport lovers and active people with fantastic conditions superb for Water Sports.
Interaction with Wild Life and Animals
In Cabo also Animal interaction lovers can find a wide variety of activities that can be done, starting with Dolphin Swims and interactive programs, Whale Watching from December to April with several options from economic to luxury, Swimming with Whale Sharks or Sea Lions in La Paz, Horseback Riding on the Beach or in the Desert Oasis, Camel Safaris and Camel Rides in several locations, Bird Watching in the San Jose del Cabo Estuary or visiting one of the many included little zoos with local Fauna like Iguanas and Birds. Also snorkeling in Cabo gets you in touch with the large Fauna of the Sea of Cortez with plenty of Colorful Tropical Fish species. You can even have a Crocodile experience in Los Cabos. Plenty to do in the Animal world.
Off Road Tours in Cabo
For Off Road Lovers and as one of the Mexican capitols of Off Road with the world-famous Baja Mil Race, Off Road Activities are widely available in Los Cabos. From Mountain terrain, dry riverbeds to beach Locations. The 2 most popular areas for Off Road Adventures are Migriño Beach and El Tule Beach. You can do ATV Tours, Dune Buggy Tours, Razor Tours and even Dirt Bike racing. Now as for any "extreme" adventure an Off-Road Tour brings always a certain amount of risk with it, challenges to master. It is very important to follow the instructions of the expert guides that accompany the Tour. Always consider to pay that little extra for the insurance. You can find also here options that are less pricy, lower price = lower quality, you are getting an older vehicle, less safety and less bang for your buck. It is your Vacation, you deserve a good to fantastic experience, spend a little more, it is worth a while.
Boat Tours in Cabo
A Boat tour during your stay in Los Cabos is almost inevitable and a must do, the Main Attraction, the Los Cabos Arch and Lands' End are only safely accessible by Boat. The price and type of experience has great variety available. Completely normal, the less you pay the less quality, comfort and safety you usually get, remember that nothing in life is for free and if it sounds to good to be true it usually is. You can visit the Los Cabos Arch by Glass Bottom Boat, Clear Boat, Catamaran Boats, Sailing Boats, Sport Fishing, Private Yachts and larger Cruise Boats. Most of the Catamaran and Sailing Boats offer Open Bars and Food, here also, the less you pay the less quality of Food and drinks you will get. It is always good to consider spending a bit more than a more economic option, your Vacation is important and you deserve it. Remember, the less you pay the less you are getting for your buck!
Adventure Tours in Cabo
Four Adrenalin and Outdoor Lovers Los Cabos has also fantastic options, Zip Lining, Rappelling, Nature Walks and Hiking, Bungee Jumping to Giant Swings, Parasailing, Para Gliding, Surfing, Swimming with Whale Sharks and Sea Lions and much more. For Adrenalin Junkies there is plenty to do in Los Cabos. Here it is important that you consider your safest options for an activity that carries certain risks, you want to deal with a safe company that follows international standards of safety and equipment. Remember to check those details prior to make a decision or support yourself with a local company that does this for you.
Private Tours
Los Cabos has also a wide selection of Private Tours and Adventures, from Private Yacht Tours, Private Sailing to Private City Tours of Los Cabos and its surrounding areas.
Los Cabos or Cabo Weather
As it is on the edge of the desert that covers most of the Baja California peninsula, it is one of the sunniest locations in the world, with an average of 330 days of sunshine per year. The climate is characterized as hot and dry to the north of the town of San José del Cabo, hot and semi moist in San José and along the southern coast and temperate and dry in the highest elevations.
Cabo San Lucas average temperature chart
| Month | High | Low | Month | High | Low |
| --- | --- | --- | --- | --- | --- |
| January | 72-79 | 60-65 | July | 87-92 | 73-79 |
| February | 72-75 | 60-65 | August | 90-95 | 74-80 |
| March | 74-77 | 60-65 | September | 90-95 | 76-80 |
| April | 79-84 | 63-67 | October | 85-91 | 74-79 |
| May | 80-85 | 65-70 | November | 80-85 | 60-70 |
| June | 80-85 | 67-72 | December | 73-80 | 60-70 |
The lowest temperature during night time is in January with an average of 60 to 65 degrees while during the day the average temperature ranges from 72 to 79 degrees. Los Cabos is a privileged place, the weather, sunshine and location are perfecto for your Vacation. Even the Water Temperatures are incredible all year long.
Los Cabos Water Temperatures
The Los Cabos average Sea Temperatures are also something that you can get to envy, it's a Magic Place and all year long you are able to do Water Sports, Snorkeling, Kayaking, jet Skiing, Parasailing and more. The average Sea Temperatures are;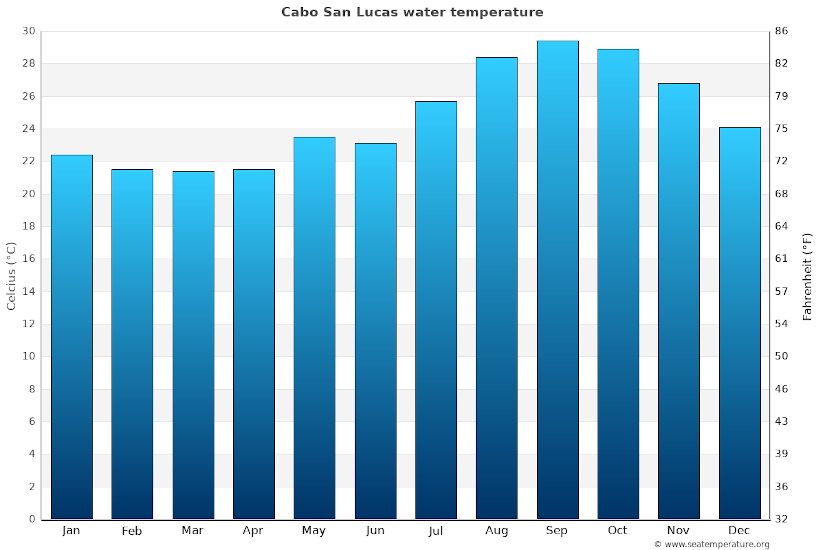 With water temperatures even in January and February in the low 70, s Water Activities all year around are being enjoyed and done by the millions of visitors to the Los Cabo Paradise.
Safety in Los Cabos, San José del Cabo and Cabo San Lucas
Los Cabos, San José del Cabo and Cabo San Lucas are one of the safest Vacation Destinations in the world. The tourist areas are kept very safe with a local tourism police. Incidents with local tourists are virtually unknown. Of course, you have to take your day-to-day precautions as if you were at home, leave your values in a safety deposit box in your hotel and only take what's really necessary for your Tour or Adventure outside of your hotel.
Los Cabos International Airport
The international Airport of Los Cabos is a very modern Airport with 3 Terminal Buildings, the national Terminal Building known as Terminal 1, the International arrival and departure Terminal known as the Terminal 2 Building and the FBO Private Airplane Terminal. During 2019 the Airport handled well over 5,000,000 arriving visitors to Los Cabos. The architect of Los Cabos International Airport's 1997 renovation and expansion was Mexican architect and great-grandson of Queen Isabella II of Spain, Manuel De Santiago-de Borbón González Bravo. He was a member of ICOMOS (International Council on Monuments and Sites), and his lifetime architectural legacy to Mexico adds to 11,000,000 square meters (120,000,000 sq ft) built nationwide, including famous buildings and national sites, as well as important national restorations like the Mexican Houses of Congress Palace. The International Airport of Los Cabos, Airport Code SJD is the 5th most busy Airport in Mexico. Expansion plans are on the way for an additional Terminal Building and Landing Lane due to the impressive and constant growth of Los Cabos, well over 6000 Hotel Rooms in less than 3 years.
Transportation in Los Cabos
For your arrival and departure transportation the best way to go is a precontracted transportation service that is available in shared and private options. Getting your transportation prior to arrival has many benefits, including saving time, saving Money, safety and comfort. Another option is the Airport Taxi or shuttle Bus with extended waiting periods getting your ticket, waiting for a Bus to fill or a bit more expensive private taxi transportation option. For you way back to the Airport you will consider only a taxi. Due to local Government regulations the only service available for in destination transportation that has not been pre-contracted is the Local Taxi supported by the very strong taxi union. For a pre-contracted transportation services, you will find many options online, the difference in pricing is usually always combined with the quality and age of the vehicle, service and safety. Another option, already being in your Hotel and destination, is the not yet legalized Uber. Currently Uber and local taxi Unions and Government are in a kind of a "turf war", the Uber will not be able to enter a Hotel and is circulating without local government permission, so in many Hotels you would need to leave the Hotel and get Your Uber in the street, if detected you run the risk of getting followed by the Union and local police and will be asked to get into the Taxi for your transportation without having a choice. In most Hotels a local Government inspector is checking the permits for transportation prior to entering the property. The local Bus System is not very developed and the buses are on the older side. The best, safest and smooth option is to consider pre-contracting your transportation needs prior to arrival.
Hotels and Seasons in Los Cabos
Los Cabos currently has a total of 16,000 Hotel Rooms distributed in 5 different Hotel Zones. Those are the zones closest toward the farthest coming from the Los Cabos Airport;
San José del Cabo Hotel Zone, San Jose del Cabo is the closest to the Airport Hotel Zone with resorts such as the Hyatt Ziva, the Barcelo Grand, the Royal Solaris, Cabo Azul, Posada Real and others. The San Jose del Cabo Hotel zone is 20 miles away from Cabo San Lucas and is considered a quieter and less active nightlife part. Very close and in walking distance to San Jose del Cabo Down Town.
Puerto Los Cabos Hotel Zone, You Will find Luxury resorts like JW Marriott, Secrets Puerto Los Cabos and El Ganzo in this area of Los Cabos about 25 miles away from Cabo San Lucas. It is a remote area with a yet to develop own Marina area which is functional but not that developed yet.
Tourist Corridor Zone, the Road the connects San Jose del Cabo with Cabo San Lucas is 12 miles long and is full of Luxury resorts like the One & Only Palmilla, the Westin, Le Blanc, Grand Velas and much more. Depending on the location of your Hotel it's a quick ride into Cabo San Lucas.
Cabo San Lucas Hotel Zone, Hotels such as the Riu Resorts, Villa group Hotels, Me Cabo, Sandos and Solmar are all in that privileged zone very close to Nightlife and the Cabo San Lucas Marina. Perfect for people that enjoy Nightlife and mingling.
Pacifica Hotel Zone with Hotels like the Pueblo Bonito Sunset, Pueblo Bonito Pacifica, Hard Rock and Nobu is a remote Hotel Zone but very quickly to access Cabo San Lucas, Marina and Nightlife.
High Season in Los Cabos is usually from December until April and again from June to August, those are dates that getting a room can be a challenge if not planned ahead of time and with sufficient advance. Even throughout the rest of the year the Destination show high occupancy. Other dates of extreme high occupancy of course are the Holidays like Thanksgiving, Presidents Day and other. In general, the Destination is open all year long without any restrictions or loss of attractions. Low Season occupancy reaches 60% or more while high season reaches close to 100% of occupancy.
What to bring along in clothing for your Vacation in Cabo?
Apart of your bathing suit it can be challenging to think about what to pack for your vacation in Los Cabos. We outline some recommendations for you to make sure you have everything packed to not miss an adventure or a tour during your Vacation.
Off Road Tours – We suggest to bring along clothing that can get dirty and dusty, old T-Shirts, long pants, closed sport shoes that also can get dirty. No designer clothing or shoes, expensive clothing. This is an adventure where you will get dirty and good clothing can get ruined.
Adventure Tours – For Horseback Riding and Camel Rides bring along long pants and closed shoes. For Zip Lining and Rappelling also closed shoes are necessary in addition to a T-Shirt that can get dirty, at times the Zip Lines drop water in combination with grease from the lines it can ruin a good Shirt.
Water and Boat Tours – bring along shoes that you can take off very easy and preferable with an anti-slip sole. In many Boats you may have to take off your shoes, in others you can leave them on but water can be on surfaces and make this slippery.
All Tours – consider extra clothing for changing after your adventures, Biodegradable Sunscreen, Bug Spray, Sunglasses and hats should be part of your packing.
Dining – Most resorts and restaurants ask for a casual dress code, closed shoes and no T-Shirts or Flip Flops. If you want to make sure not to be denied access, bring along some dress shoes and casual shirts and long pants.
We wish you a fantastic Vacation in Los Cabos!