Los Cabos Giant Sling Swing

SPECIAL DEAL

SAVE 20% ONLINE
Los Cabos Giant Sling Swing
This Los Cabos Giant Sling Swing takes courage, strength and mindset, trust and confidence. Your search for things to do in Los Cabos is over. Los Cabos will make you remember the best moments of your childhood; no work, no worries, no school and all day on the playground running, jumping and swinging from a gondola 300 feet above the ground in the Los Cabos Giant Sling Swing you've ever seen. Undoubtedly one of the most impressive activities of your life! The Los Cabos Giant Sling Swinger is a must-do while in Los Cabos. This ride, even though it involves a great amount of adrenaline, is very smooth, exhilarating and can be done alone or with a companion. Included and without extra charge is the fantastic Animal Kingdom visit with Iguanas, love-birds, macaws and many more friends are waiting for you. Also included in Your adventure is a walk over the longest wooden hanging bridge in America and the largest of its kind in the world. You will have an unforgettable day of fun!
This Adventure takes place in an adventure park located in the tourist corridor of Cabo San Lucas – San José del Cabo where you will find many activities and some extreme sports. Within its 115 hectares you will find the zip-lining largest circuit in Baja! They also have "La Gondola" a funicular unique in its style with glass floors where you marvel with this amazing view. You will be amazed by this 18 ton engineering wonder with a capacity of 15 persons. La Gondola can withstand almost 140 tons sustained by its four steel cables of 35 tons each.
The owner and passionate Manager has travelled the world, has researched the best methods, equipment and techniques. Now after over 15 years, and plenty of hard work invested working with the Best and safest engineering firms, he has perfected the attractions to be able to offer you a unique experience, trustful and very safe. In addition, due to their environment conservation policies, they have designed all their activities so that they blend with the ecosystem without disturbing it while taking advantage of their geographical characteristics and thus preserve its flora and fauna.
Explore the natural wonders of Mexico in this Eco Park. This Park opens its doors as the second ecological park from the Eco Park family following the idea of living an unforgettable adventure practicing extreme activities while coexisting with nature as you can do daily in the first Eco Park, Tapalpa.
Restrictions
minimum age 10 years Minimum Weight 90 Pounds maximum weight 480 pounds Expecting Mothers Heart, Back or Neck Problems Vertigo Osteoporosis use of camera
Your adventures includes
Roundtrip Transportation Highly qualified Guides professional equipment Training Session Free Locker with oficial ID
What to bring?
closed comfortable shoes Hat or cap , Sunglasses Sun Block Cash Money for 20 Usd Park Entrance Fee per person, Souvenirs and Photos
From $110 to $110 USD 4 hoursDifficultCouples Expecting Mother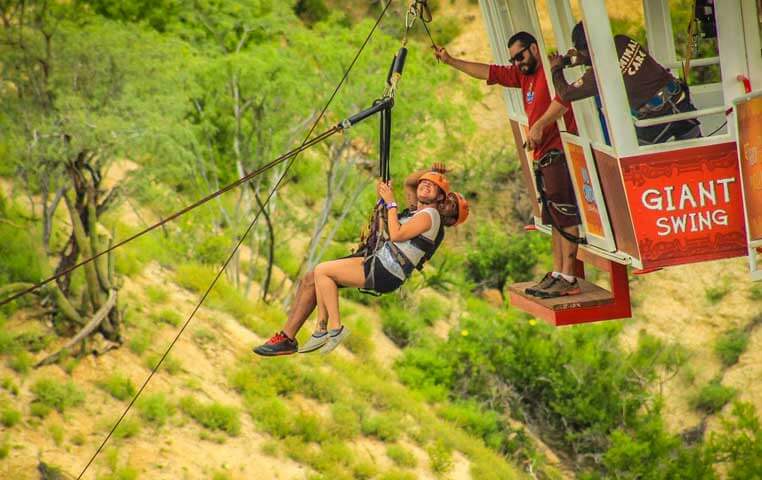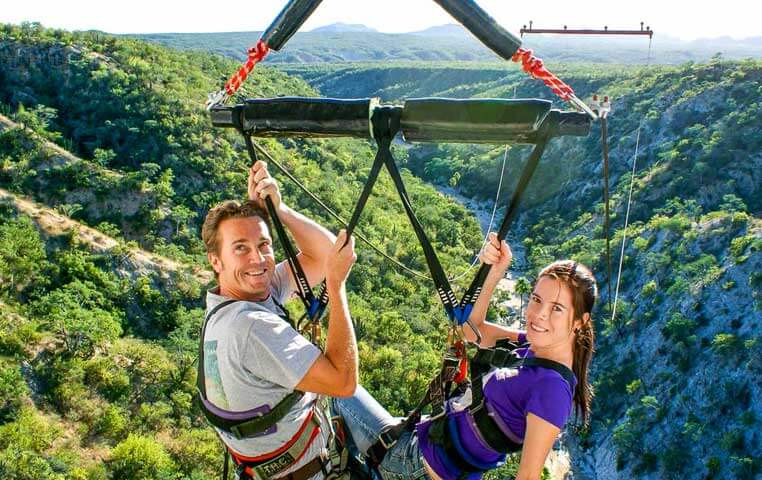 Do not forget to book your Airport arrival and departure transportation.
Los Cabos Private Roundtrip Transportation
1-10 passengers
Starting at
$140 USD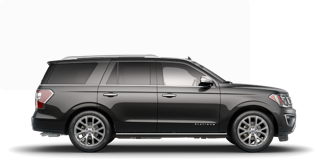 Los Cabos Private Roundtrip Transportation
1-5 passengers
Starting at
$140 USD