ATV Ride on the Beach

SPECIAL DEAL

SAVE 70% ONLINE
ATV Ride on the Beach
Riding an ATV in the Desert of Cabo San Lucas in 2023, Mountain, Dry Riverbeds and on a stunning and iconic Los Cabos Beach is one of the most Popular activities to do here in Cabo San Lucas. Get dressed up with your Equipment and Bandana and hop on to your Semi Automatic Honda Single or Double ATV. After a quick training and explaination on the very easy to drive ATV, start to explore the Baja Outback in this Adventure riding through rough terrain like Mountains, Desert and dry riverbeds until you reach the stunning and Iconic Migriño Beach. Race through the Sand and enjoy stunning Views on a Beach only you can reach. Round Trip Transportation, Safety Equipment, Bandana and Goggles are included in Your Adventure. This 2 hour ATV Adventure is a fantastic experience and incredible fun.
Age Restrictions:
► Must be 16 years of age and carry a valid Driver Permit to ride the ATV
► Minimum Age for Co-Rider is 7 Years
Included:
► Round Trip Transportation
► 2 Hour ATV Guided Tour
► Beach, Mountain and Dry Riverbed Terrain
► Professional Tour Guides
► Bandana and Safety Goggles
► Optional Tequila Tasting
► Water Refill Stations (Bring your Bottle)
Not Included:
► 25 Usd Park Conservation Fee per Person
► 35 Usd Optional Collision Insurance (or leave a Credit Card Voucher)
► Gratuities
What to bring along?
► Closed Shoes, preferable Tennis Shoes
► Long Pants and comfortable T Shirt
► Bring clothing that can get dirty, no designer clothing
► Camera for stunning Photos
► Sun Block and Bug Spray
► Change of Clothing for after the Tour
Frequently asked questions for the ATV in Cabo
Question: Is ATV riding dangerous?
Answer: No, the ATV Tour is a safe and fun activity, the safety regulations, equipment and procedures are International standard and considerably above what needs to be done to make this a safe Adventure. Your Tour is accompanied by several professional Tour Guides to make sure you are safe.
Question: Is riding the ATV difficult?
Answer: Riding a Semi-Automatic or fully automatic ATV is very simple and explained and done very easy. It does not require special skills. It is easy to ride an ATV.
Question: Do I need a valid Drivers License to ride the ATV?
Answer: Yes, a valid driver's license is required to drive the ATV and the minimum age is 16 years old. In the double ATV the driver requires a Drivers License and the companion does not require one.
Question: If I purchase a double ATV can I switch places with my companion?
Answer: Yes, if she or he has a valid driver license you can switch during the Tour in several occasions.
Question: Does the tour include transportation from my Hotel, Condo or Airbnb?
Answer: Round Trip Transportation is included in your adventure from Hotels, Condos or Airbnb (For some locations you may have to move to a close by meeting point).
Question: Why do I have to pay and Entrance Fee of 20 Usd apart of my Tour Price?
Answer: The 20 Usd "Entrance Fee" is a Wild Life Conservation Fee, to keep everything clean and in ecologic harmony.
Question: Why do I have to buy a collision insurance additionally to my Tour Price?
Answer: Damages to the ATV and suspension are very common as you are racing through some rough terrain. Prior to implementing the Insurance people had to pay for the damages themselves that cost hundreds to thousands of USD and many complaints. Now you can get the insurance for a small price and are covered 100% for damages.
Question: How much time is the ATV Tour take?
Answer: To complete the Tour it is approximately 2 hours, with fitting, instructions and set up the Tour is approximately 2 hours and a half long. Adding on transportation both ways take into consideration 4 to 5 hours for your Adventure.
Question: Can I use my Cel Phone or Camera during the ATV Tour?
Answer: The use of Cameras or Cel Phones is not allowed during the Adventure. A fall of Cameras, Phones or equipment ruins any Camera or Cel Phone, access is almost impossible for recovery. A professional Photographer will be taking photos of your adventure, at the end of the Tour you can purchase the Photos.
Question: What happens if I get sick the day of the Tour and cannot go to my Adventure?
Answer: We can re-schedule your Tour for later and when you feel better or with a medical certificate you can get a full refund for up to 2 people.
Question: What if my Vacation gets cancelled because of Covid-19?
Answer: You get a full refund the day you communicate this to us.
Question: Can I get sick with Coronavirus during the Tour?
Answer: All Bio Safety measures have been taken during your transportation, check in and tour to avoid sickness with Intense cleaning, Social Distancing, mask wearing and Anti-bacterial gel anywhere. Thousands of people are still currently enjoying Adventures in Los Cabos.
Restriction: The use of Cell Phones and Cameras is not permitted during driving a Motorized Vehicle or Riding a Wild Life Animal due to Mexican and International Laws. Just as anywhere else in the world using a Phone or Camera device represents danger to yourself and other participants and is not allowed.
Tip: You can bring along a Strap on Go Pro that would maintain the Go Pro Camera to your Head or Chest without having to hold and manipulate the device. Professional Photos are being taken and are available for purchase starting at 20 Usd after the Tour if you choose not to bring along your Strap on Go Pro.
Other Off-Road Adventure
ATV Tours in Cabo (Click here for further Information)
ATV Tours in Cabo are widely available and several companies are offering an ATV Tour in Los Cabos. Pricing differs and is according with the quality, safety and service of your ATV Adventure in Cabo. Ride Your ATV through Mountain, Desert, Dry Riverbeds and Beach Terrain accompanied by professional Tour Guides that keep you safe in this Adrenalin filled and fun Adventure.
Dune Buggy Tours with Razor (Click here for further Information)
Real Dune Buggies in Cabo are scarce and not much available, some companies are offering Dune Buggy Tours in Los Cabos. Pricing differs and is according with the quality, safety and service of your Buggy Adventure in Cabo. Ride Your Dune Buggy Razor through Mountain, Desert, Dry Riverbeds and Beach Terrain accompanied by professional Tour Guides that keep you safe in this Adrenalin filled and fun Adventure.
Other Adventure Adrenalin Tours in Cabo
Los Cabos Zip Line Tour (Click here for further Information)
Flying through the Los Cabo Sky on a Zip Line Adventure is an adrenalin filled, safe and fun adventure for Outdoor Lovers and Adrenalin Hunters. Something to get your blood pumping through your veins and enjoy Bird's eye views of a natural hidden away Desert Oasis and Canyon. Great for Families and also Kids above 8 years. Fly alone, in Tandem, 3 or up to 4 people together.
Bungee Jumping in Cabo (Click here for further Information)
Jumping into the abyss of a Canyon Desert Oasis? An incredible safe and fun Bungee experience in Cabo that gets your blood running through your veins, work against your fears and accept a challenge only a few are willing to take on. The 1st step is the always the most difficult followed by freedom and an incredible feeling of having done it.
Cabo Parasailing Tour (Click here for further Information)
Why not Parasailing in Cabo? Another Adrenalin, safe and fun Adventure to do in Cabo for Outdoor and Adventure Lovers. Get a Birds Eye view of the Los Cabos Arch and lands' End alone or in tandem. It is easier than you think and you even can land back on the Boat if you do not want to get wet. Incredible fun and another challenge that you can scribble of your bucket List.
Whale Shark Snorkeling in La Paz (Click here for further Information)
Another fantastic and adventurous option that gets your blood pumping is Swimming and snorkeling beside Giant but gentle Whale Sharks in the La Paz Bay. Definitely also a fantastic Adventure for Outdoor Lovers and Adventure seekers. Plan for a full day of fun and Adventure with stunning sceneries of the Baja.
Snorkeling in Cabo Pulmo National Park (Click here for further Information)
Swimming and snorkeling with Bull Sharks, Giant Turtles, manta rays and other beautiful Sea creatures that get your Blood pumping and is a heaven for Outdoor and adventure lovers. The adventure starts already with getting there, Cabo Pulmo is only accessible via Dirt Roads. Snorkeling in Cabo Pulmo is more expensive but it is worth every penny spent.
Restrictions
Back Problems,problems with walking, Vertigo, No Drivers License
Your adventures includes
2 hour ATV Ride, Safety Equipment, Round Trip Transportation, Professional Guides and Bottled Water
What to bring?
Comfortable clothes, Athletic shoes, light sweater (winter), Biodegradable sunscreen Money for Souvenirs, Photos, Park Entrance fee (20 Usd) and Insurance not included
From $160 to $130 USD 2 hoursEasyFamily 5 year +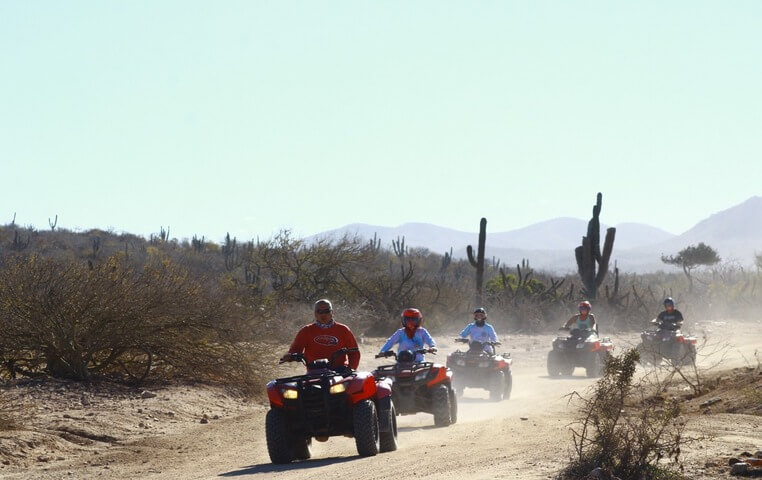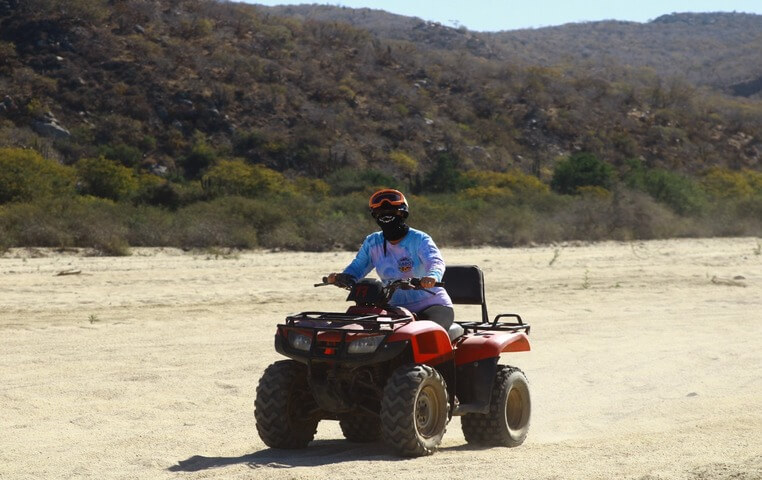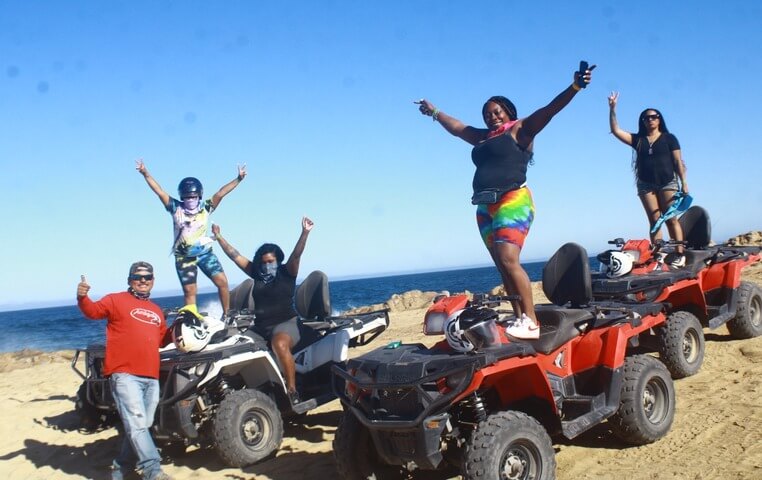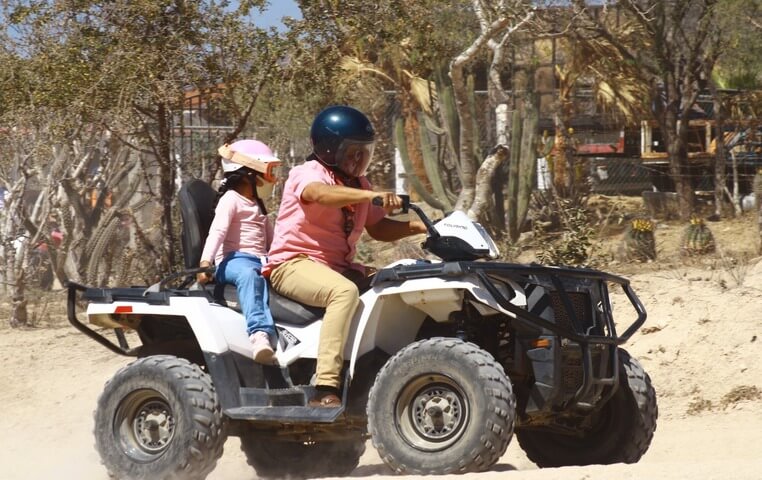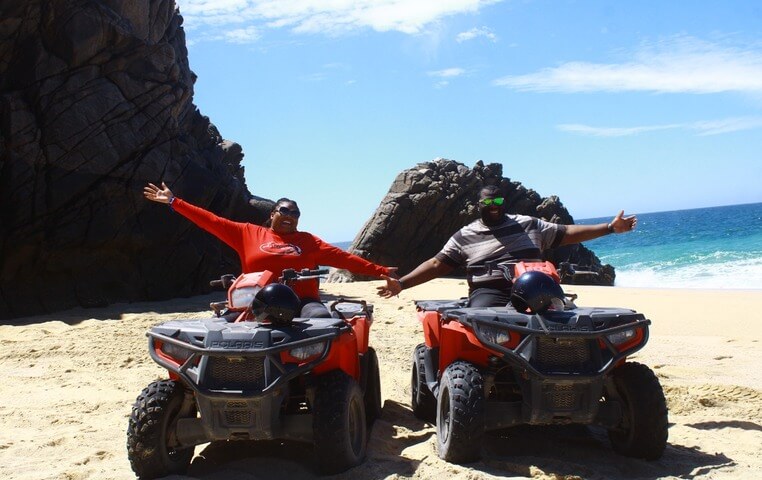 Do not forget to book your Airport arrival and departure transportation.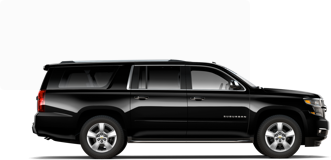 Los Cabos Private Roundtrip Transportation
1-5 passengers
Starting at
$145 USD
Los Cabos Private Roundtrip Transportation
1-10 passengers
Starting at
$140 USD