Snorkeling Tours in Los Cabos Mexico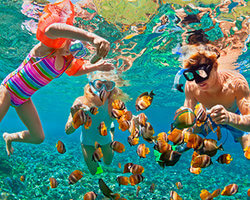 Snorkeling in Los Cabos Mexico is one of the most Popular Activities of all with a vast variety of options in and around Los Cabos, Cabo San Lucas, San Jose del Cabo, The Corridor, Cabo Pulmo and La Paz Mexico. Read about the amazing places where you can Snorkel in Los Cabos.
Snorkeling Tours in Los Cabos Mexico
Snorkeling Tours in Los Cabos Mexico
Snorkeling in Los Cabos Mexico is one of the most popular Tours to do in Los Cabos. Los Cabos has several snorkeling spots that are worth a while to jump in and Explore. The Snorkeling Areas in Los Cabos are spread around between San Jose del Cabo, Cabo San Lucas, The Tourist Corridor and also outside the municipality are fantastic snorkeling spots off the beaten path experiences. The Cabo Pulmo National Park and La Paz are both places for incredible Snorkeling Tours off the beaten path and that can compete with the best snorkeling spots in the entire world. Water Temperatures guarantee an all year long Snorkeling Experience in Los Cabos. 1st of most important some Safety tips about snorkeling in Los Cabos Mexico.
Safety Tips for snorkeling in Los Cabos Mexico
Los Cabos has beautiful incredible areas for snorkeling, however most beaches in Los Cabos are not suited for swimming or getting into the ocean. Rip Tides and Undertow are very common on most beaches and in front of almost all Hotels. Swimmable Beaches are scarce and only very few Hotels have the privilege of offering a swimmable beach to their Guests. Our Safety recommendations are to always take a guided Snorkeling Tour to areas that are safe for snorkeling and always accompanied by a professional Snorkeling guide and support equipment. Don't go alone and don't go with companies that just take you somewhere to snorkel without the guide accompanying you. Getting a Cramp, getting tired, encountering an unknown species that scares you all are common things that can happen during a Snorkeling trip. Always wear your Safety Gear and Life jacket during your snorkeling Tours. Snorkeling areas are usually also safe for beginners as long as you are accompanied by a Guide and take the necessary precautions.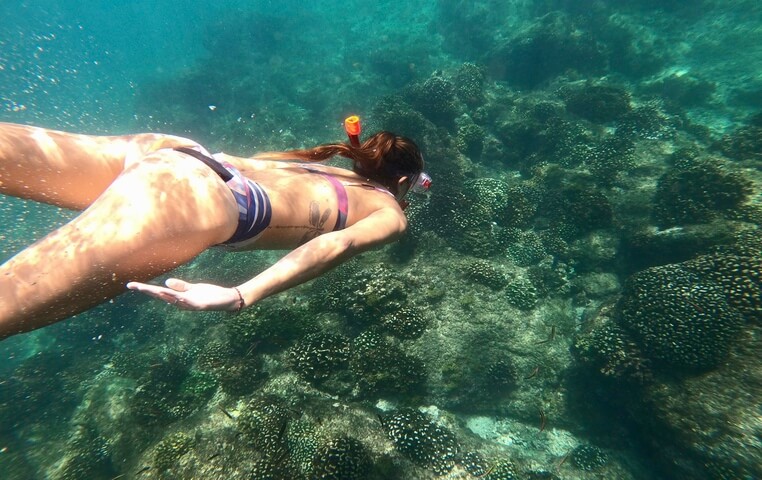 Snorkeling in Cabo San Lucas
Cabo San Lucas has an incredible area for snorkeling close to the Arch of Cabo San Lucas and the famous Lovers Beach. The area somehow has a bad reputation because it is so popular at and around the Arch with Boat Traffic and other Water Sport Equipment such as Wave Runners, Kayaks, Water Taxis and much more. However, there is an area that is closed off for all types of Boats and Water Sports exclusively assigned for snorkeling. Pelicans Rock is an absolutely incredible Snorkeling spot and it feels certainly like jumping into an aquarium with thousands of colorful tropical fish and other stunning Sea Life. The area can only be accessed by Panga Boats, Water Taxis, Glass Bottom Boats and smaller Boats and has an area assigned for de-boarding next to Pelican Rock and Beach. Larger Boats are not allowed to anchor or stay at the Arch of Cabo San Lucas or near Pelicans Rock and just are allowed to stop for a few Photos at the Arch. De-Boarding is usually jumping off the Boat, so if you are not in average shape and struggle with getting up a ladder submerged into the water to get back on the Boat those Tours are not for you. The area is controlled for your safety by the Local Sea Port Authorities and has a flag system that ranges from Green, Yellow and Red Flags, the last meaning that de-boarding at Lovers Beach will not be allowed and the Snorkeling Tours would be suspended. Tours to Pelicans Rock are fantastic for snorkeling and afterwards spending time at Pelicans Beach or Lovers Beach which is beautiful and very popular. Watch out for Tours that just drop you off at the beach and hand you the gear, always be accompanied by a professional Snorkeling guide and use a professional service, people have been left behind and then spend extra money just to come back to the Marina, don't spare expenses on your own safety. A radio can make a difference if Port Authorities advise Sea conditions rapidly can change. Again, the area is absolutely spectacular for snorkeling and a guide makes that experience even worth much more by pointing out species and sea life to you.
Pros
Fantastic Snorkeling
Close by the Arch of Cabo San Lucas
Lovers Beach
Sea Lions Colony close up
Very rich in Sea Flora and Fauna
Good for Beginners and 1st timers
Quick Boat Ride
Flexible Beach Time
Great Snorkeling Guides available
Can bring your own Food and drinks
Regulated by Port Authorities for your Safety
Cons
Only smaller Boats get to this area
No Bathroom
No Food or Beverages included
De Boarding and getting back on the Boat
Crowded at Lovers Beach and around the Arch of Cabo San Lucas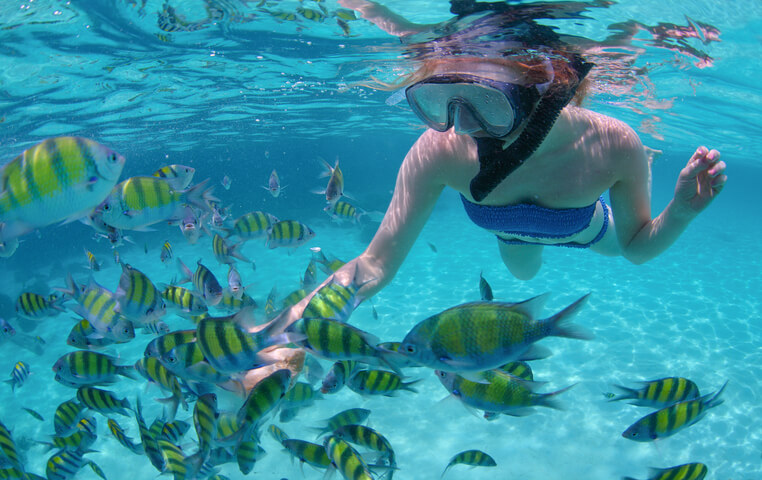 Staying at a Hotel in the Tourist Corridor enables you to take Snorkeling Tours from the San Jose del Cabo Marina called Puerto Los Cabos or from Cabo San Lucas. There are a couple of great beaches in the Tourist Corridor for snorkeling called Chileno Beach and Santa Maria Beach, both have great Snorkeling spots and a very vivid Sea Life with Colorful Tropical Fish. Chileno Beach and Santa Maria Beach are both certified Blue Flag Beaches with fantastic conditions, changing and showering installations, bathrooms and access even for Wheel Chairs. If you head to those Beaches by your own you could take an Uber or have a rental car, taxis may be able to take you there but have no station there for your return, make sure you have your return organized. Chileno Beach has a Natural Corral reef nearby fantastic for snorkeling. If you are a very experienced snorkeler and carry all necessary safety equipment you could go by yourself and spend the day for snorkeling and sunbathing at this stunning beach. Another great way is to take a Boat Tour to Chileno Bay from both, the San Jose del Cabo Marina or the Cabo San Lucas Marina. Larger Catamaran Snorkeling Tours are available with Lunch and Drinks included, dancing and great music and a fun ambience. There are also Private Yachts, Sail Boats and smaller Catamaran Tours available to travel to Chileno bay or Santa Maria Bay. Any way you choose the snorkeling experience is worth the travel on top of having stunning coastal views of Los Cabos that are breathtaking to say the least. Make sure you get a Boat that has a snorkeling guide a board, all safety equipment needed and don't just drop you off at Chileno for snorkeling without accompanying you. Make sure you choose a Tour Time that does not mix with other Boats arriving at the same time. There also a couple of Tours available that take you by road to Chileno Bay and Santa Maria beach, set up your Umbrella, supply a cooler and snorkeling equipment together with a Tour and Snorkeling Guide, those are also cool tours because you enjoy the Beaches, do your snorkeling and explore the rest of Cabo San Lucas.
Pros
Great Snorkeling Spot
Beautiful and stunning Beach Location
Going by Boat Food and Beverages included
Bathrooms
Entertainment
Music
Great Ambience
Incredible Coastal Line views
Stop at the Arch of Cabo San Lucas
Snorkeling guides and Safety Equipment
Cons
Larger Groups if you go on a Large Catamaran
All Boats, Catamarans, Yachts and Sailing Boats go there
Crowded at specific times and weekends
Can't go to the Beach and stay on the Boat unless you take the Land Tour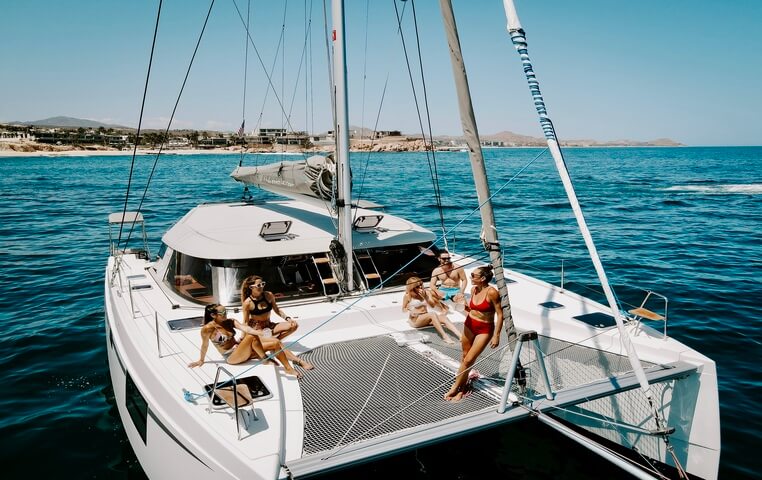 Out of the Marina in San Jose del Cabo also called Marina Puerto Los Cabos, you have a couple of more luxurious options. The marina is less occupied and only a few Boat Tours are available out of San Jose del Cabo due to the fact that Boats out of that Marina can't reach the Arch of Cabo San Lucas. If you like staying on the off the beaten path and having a more luxurious experience this is the way to go. You could also take a Tour out of Cabo San Lucas if you prefer to see the Arch of Cabo San Lucas, most Snorkeling Tours in Cabo San Lucas offer included round trip transportation and it is about an hour drive. The Area of Puerto Los Cabos in San Jose del Cabo caters mostly to the Luxury resort in that area and the East Cape area, that is why the Boats are mostly very luxurious. The Snorkeling Tours in San Jose del Cabo take you to Chileno Bay or Palmilla Bay for snorkeling, both are fantastic options for snorkeling fans. Tours usually include a Premium Open Bar and delicious Snacks and Lunch. The excursions are less crowded and usually smaller groups.
Pros
Luxurious Catamarans and Yachts
Premium Open Bar
Chef a board with delicious Food
Smaller groups
Premium Snorkeling gear
Off the beaten path
Great Snorkeling Spots
Fantastic Snorkeling guides
Very comfortable
Incredible views of the San Jose del Cabo Coastal Line
4 Hour Tours
Cons
Will not visit the Arch of Cabo San Lucas
A bit more expensive then the Tours in Cabo San Lucas
Does not include transportation in most cases

The most incredible Snorkeling experience you can have in Los Cabos is Snorkeling in Cabo Pulmo National Park. Just a short, with stunning views, ride of 2 hours will take you to Cabo Pulmo National Park, a quaint little town with only 200 habitants and 17 stunning beaches. Out of the 200 habitants 60 are a local Fishermen Camp and association. The town itself dedicated itself to renting small condos and villas and to Snorkeling Excursions in Cabo Pulmo National Park. Cabo Pulmo is home to the oldest of only three coral reefs on the west coast of North America. Estimated to be 20,000 years old, it is the northernmost coral reef in the eastern Pacific Ocean. The area was designated a national park in 1995, a UNESCO World Heritage Site in 2005, and a Ramsar Wetland of International Importance in 2008. The conservation of the park, has been priority for a local ecosystem recovery from overfishing as well as an improvement to the local economic wellbeing. Snorkeling in Cabo Pulmo is an unforgettable experience, nothing compares to snorkeling in Cabo Pulmo with anywhere in Mexico. Among the noteworthy fauna are five endangered marine turtle species (Caretta caretta, Chelonia agassizi, Dermochelys coriacea, Eretmochelys imbricata y Lepidochelys olivacea) and six cetacean species (Balaenoptera edén, Balaenoptera physalus, Megaptera novaeangliae, Stenella longirostris, Steno bredanensis, Tursiops truncatus) found under special protection. Cabo Pulmo is home to 11 of the 14 species of hermatypic corals. Concerning fish communities, 226 reef species have been sighted, and the site is extremely important for numerous bird species. On top this area also has been home to Sea Lions. Get prepared for a snorkeling expedition of a life time. All Snorkeling Expeditions in Cabo Pulmo are on Panga Boats, no Luxury Yachts or Catamaran Tours are available in the area, so there is a small price to pay as far as comfort for this adventure. You will be snorkeling and exploring at 3 to 4 different Snorkeling spots totaling a snorkeling time of 2 hours and a half to up to 3 hours. But what you will see and explore is incredible, Giant Turtles, Sea Lions, many species of Tropical Colorful Fish that are incredible to watch. Most Excursions to Cabo Pulmo include a light Breakfast and Lunch at the local restaurant after your snorkeling expedition. Plan for at least 8 hours, so this is a full day Excursion, but worth every minute and dime you spend. Make sure you plan for this trip, spaces are very limited and no increase is allowed, Cabo Pulmo is incredibly popular for snorkeling fanatics from around the globe, make your reservation well ahead of time.
Pros
Incredible and unforgettable Snorkeling Expedition
National Park and Unesco Protected Area
Off the Beaten Path
Drive to Location with Incredible Views
3 hours of Snorkeling in at least 3 different locations
Fantastic Sea Food Lunch
Professional Snorkeling and Safety Gear
Very knowledgeable Guides
Cons
Panga Boats, no Luxury Boats or Catamarans
Full Day Expedition
Need to have prior Snorkeling Experience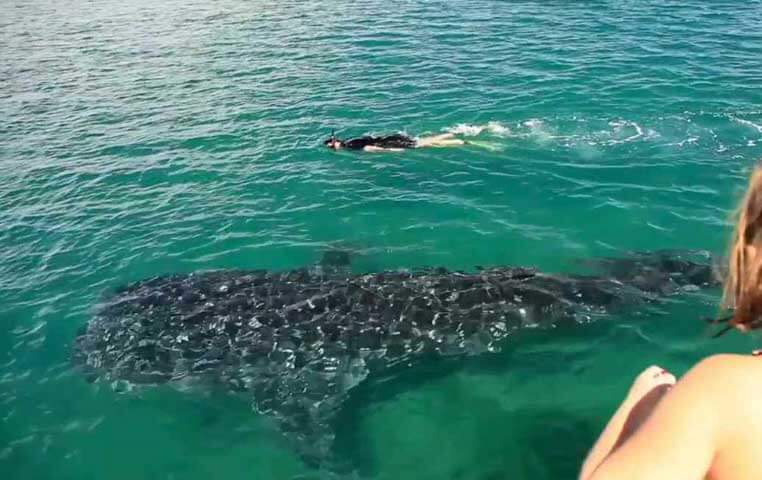 About a 3-hour drive away in Baja California's Capitol La Paz there is another incredible Snorkeling Adventure starting in Late October until Mid-April. You can swim and snorkel with real Whale Sharks in the Bay of La Paz, Gigantic and peaceful Marine Fish that take your breath away. La Paz is one of only 5 Locations in the entire world where you can Snorkel with Whale Sharks. Plan for a full day of 11 to 12 hours for this adventure that also is incredible to experience. Most Excursions include Breakfast and Lunch in the Adventure. The whale shark (Rhincodon typus) is a slow-moving, filter-feeding carpet shark and the largest known extant fish species. The largest confirmed individual had a length of 18.8 m (61.7 ft) whale shark holds many records for size in the animal kingdom, most notably being by far the largest living no mammalian vertebrate. So you can imagine the experience of jumping in with this incredible Fish.
Pros
Fantastic and very adrenalin filled experience
Only available at very few places in the entire world
Fantastic Views of the Baja Peninsula
Great Food included
Getting to know La Paz
Incredible Guides
Beautiful Boat Ride
Cons
6 hours' transportation
Long Wait times to get your turn to swim and snorkel with the Whale Shark
12-hour Expedition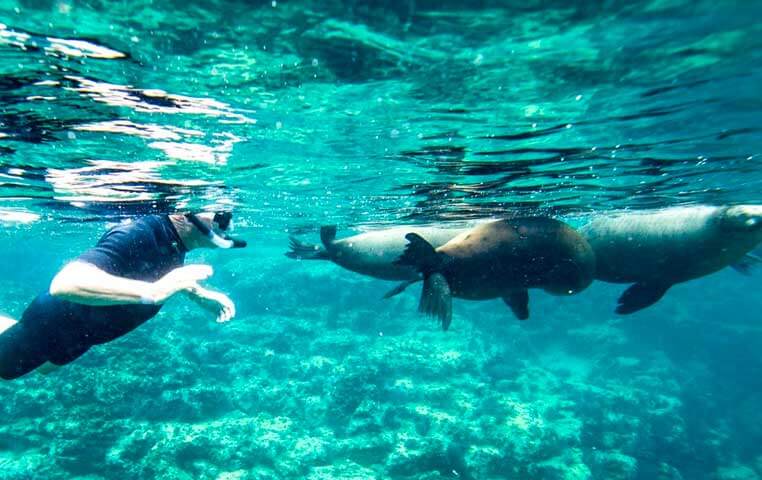 Another Fantastic Snorkeling Expedition is snorkeling with Sea Lions at Espiritu Santo Island. In this adventure filled and full of adrenaline Adventure you will be snorkeling with playful and friendly Sea Lions that can get very close to you, play with you or even nibble on your fins in a playful way. You will be snorkeling with the younger Sea Lions, the older and very large Sea Lions are resting on the rocks of Espiritu Santo Island and are always watched by the Captain meanwhile you are snorkeling. Espiritu Santo Island has been a UNESCO World Natural Heritage Site since 2005 and a National Park since 2007 and is located a 2-and-a-half-hour drive from Los Cabos and another 2-hour Boat Ride away. At Espiritu Santo Island you will find an impressive scenic beauty; the contrast between sea and desert, volcanic rock formations, numerous virgin beaches, as well as a great quantity of endemic flora and fauna. During June and July Snorkeling at Espiritu Santo is suspended because the Sea Lions enter the breading time and larger Males can get aggressive and are much more active throughout that time. But the rest of the year this is an incredible expedition and experience.
Pros
Incredible Experience with Sea Lions in their natural Environment
Fantastic Snorkeling Spot with Abundant Sea Flora and Fauna
Full Day Expedition to a Unesco Protected Area
Beach time on an incredible and unbelievable beautiful Beach
Professional and Certified Snorkeling and Tour Guides
Professional Snorkeling and Safety gear
Explore a Place only a few people will see
Bird Sanctuary visit included
Cons
5 Hours of Transportation in a Vehicle
6 Hours on the Boat (Including Snorkeling and Beach Time)
Full 12 to 13-hour Expedition
Availability is very scarce if not booked with lots of time ahead
Water and Air temperatures in Los Cabos Mexico per Month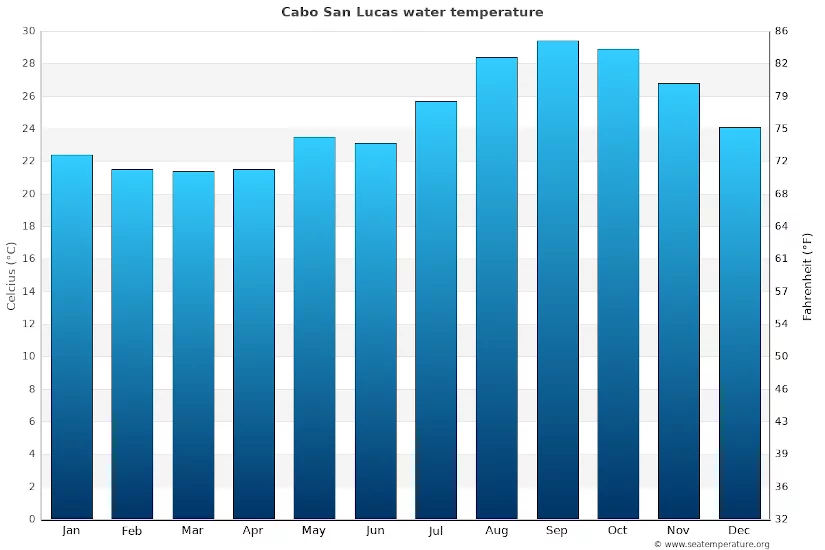 Los Cabos Average Air Temperatures.
| Month | High | Low | Month | High | Low |
| --- | --- | --- | --- | --- | --- |
| January | 72-79 | 60-65 | July | 87-92 | 73-79 |
| February | 72-75 | 60-65 | August | 90-95 | 74-80 |
| March | 74-77 | 60-65 | September | 90-95 | 76-80 |
| April | 79-84 | 63-67 | October | 85-91 | 74-79 |
| May | 80-85 | 65-70 | November | 80-85 | 60-70 |
| June | 80-85 | 67-72 | December | 73-80 | 60-70 |
As you can read Los Cabos is definitely an incredible spot for Snorkeling Fanatics and Fans as well as for 1st timers that want to start exploring the underwater world of the Sea of Cortez. From Exploring Tropical and colorful Fish to snorkeling with Giant Sea Turtles, Sea Lions or even Whale Sharks you can find it all in Los Cabos. So if Water Sports and particular Snorkeling is something you really enjoy planning a Trip to Los Cabos around just snorkeling is very possible. Stay on the safe side of the road and only do your Snorkeling with a professional company, with a Snorkeling Guide and the proper Equipment. We would be delighted to assist you in finding your Perfect Snorkeling Tour in Los Cabos Mexico.