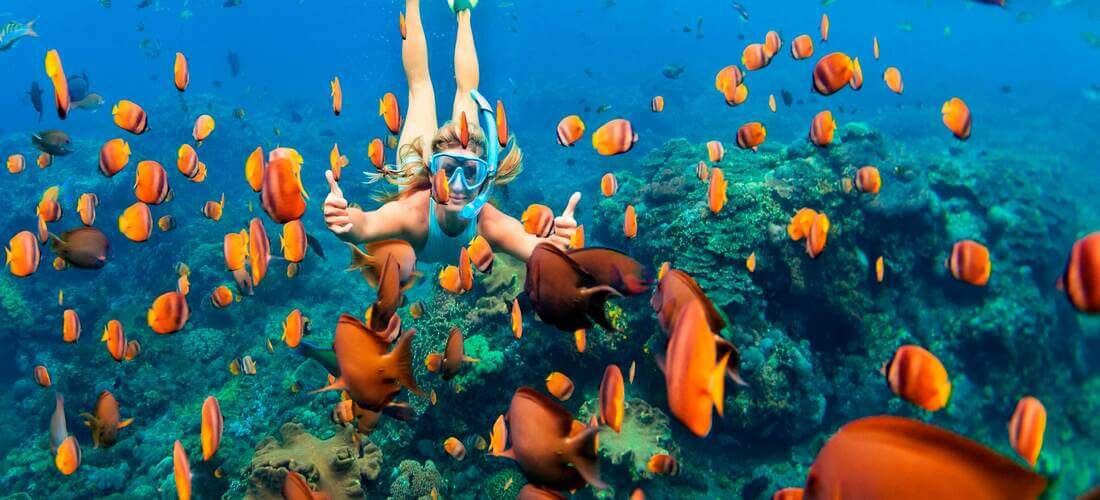 Cabo San Lucas Snorkeling Tour
Snorkeling in Cabo San Lucas is a fantastic Adventure. If snorkeling in Los Cabos is on your list of Things to do in Cabo San Lucas during your Vacation than you have come to the perfect and Best Snorkeling Tour in Cabo. Los Cabos has 5 Incredible Snorkeling spots where seeing colorful Tropical Fish and other Marine Life is part of your Adventure. Jacque Cousteau named the Sea of Cortes the Aquarium of the world because of its unusual abundance of Sea Life. Snorkeling in Cabo San Lucas is definitely something you should have on your list on what to do in Cabo. Of all the Cabo Snorkeling Tours available this is my favorite of all because of the location, snorkeling at Pelicans Rock close to the Arch of Cabo San Lucas, Lovers Beach and because of the unbelievable value you are getting in this fantastic adventure. This 5-hour Cabo Snorkeling Tour has all a Snorkeling fanatic is looking for and more, great for beginners and professionals alike.
We are picking you up in your Hotel, Condo or Airbnb in a comfortable and air-conditioned Van in your included round trip transportation, not to worry on how to get there and how to come back. You are driving straight to the Cabo San Lucas Marina where our staff will help you to fit the correct and included Snorkeling gear for your Snorkeling adventure in Cabo. Ready and set; hop on to the Boat and enjoy first a 45-minute Boat Tour of the Arch of Cabo San Lucas, take stunning photos of the Arch, the Sea Lions Colony, Lovers and Divorce Beach and Lands End. Then it is time to jump into the pristine and clear waters of Pelicans Rock together with your Professional and certified Snorkeling Guide that will always keep you safe. Your 2-hour snorkeling Adventure has started, enjoy the view of thousands of colorful Tropical Fish that get very close to you, see other Sea Life that your Snorkeling Guide will point out to you. The snorkeling guide will take incredible under water photos with his professional Go Pro under water camera of your adventure that you can take home for free, yes, Free Photos included. While other companies charge you up to 120 Dollars for photos here you have them included. The Boat is there, want to take a rest? Want to go to Lovers Beach for sun bathing? This Tour is unbelievable flexible. After your Snorkeling Tour in Cabo, you can spend free time at Lovers Beach or decide to go back for shopping Souvenirs in the Marina of Cabo San Lucas. If this is not enough a Tequila Tasting and a delicious Lunch is also included in your Cabo San Lucas Snorkeling Tour. Returns are flexible, you can choose to return at 1, 3 or 5 pm. This Snorkeling Tour in Cabo San Lucas is the best value there is and the best snorkeling tour in Los Cabos.
Other ways of Snorkeling in Los Cabos
Snorkeling Catamaran Tour (Click here for further Information)
If you are an active person and enjoy water sports a Snorkeling Catamaran Cruise will first take you to the Los Cabos Arch and Lands' End, the Sea Lions Colony and Lovers Beach for incredible must do Photos in Los Cabos. Then head to Chileno Bay or Santa Maria Bay for a snorkeling adventure at a natural coral reef. This adventure includes also an open Bar after your snorkeling activity and Lunch. Entertainment, Music and Dancing is also part of this adventure in Los Cabos.
Snorkeling Sailing Tour (Click here for further Information)
Your first stop in the Snorkeling Sailing Tour in Los Cabos is also the World-Famous Arch and Lands' End with the stop at Lovers Beach and the Sea Lions Colony for incredible Photos. This Adventure includes a premium open Bar after your snorkeling activity and delicious Food, Snorkeling Equipment and also a Stand-up Paddle. Active and yet relaxing as you sail away to Chileno or Santa Maria Bay for your snorkeling activity. If you are looking to stay away from larger crowds and enjoy Sailing and Snorkeling this is a must do in Cabo.
SUP. Stand up Paddle (Click here for further Information)
Hop onto your Surf Board and Stand-up Paddle to the Los Cabos Arch, is the hottest new water activity. It requires balance and strength, but nearly anyone can do it with the right instruction. Let an experienced guide teach you how to glide along the water on your paddleboard sooner than you could think. The pride you feel by reaching this goal is priceless, and the view of the Arch is breathless. During the tour, a break is needed, and this time is used for snorkeling at Pelican Rock.
Snorkeling on the Beach (Click here for further Information)
If you don't like Boats and are a Snorkeling Fanatic a great option for snorkeling is the Los Cabos Beach Day. The adventure starts with a short 45-minute Boat Ride to the Los Cabos Arch, the Sea Lions Colony, Lovers Beach and Pelican Rock for a quick stunning Photo of you in front of Los Cabos Main Attraction and a must have picture. Head to Chileno or Santa Maria Bay by car, your Beach Day is all set up with your Umbrella and Ice Chest, Snorkeling Equipment and Snorkeling Guide. Explore the Coral Reed of Chileno or Santa Maria Bay with lots of Tropical Fish and Sea Flora and Fauna. Finish you adventure up with a Tequila Tasting, Glass Blowing Factory Visit and Shopping time prior to returning to your Hotel.
Pirate Snorkeling Tour (Click here for further Information)
Great for Adults and Kids is the Pirate Boat Snorkeling Tour. Explore the Los Cabos Arch, the Sea Lions Colony and Lovers Beach prior to your snorkeling Adventure at Chileno Bay or Santa Maria Bay. Pirate Lunch and open Bar is included in this Snorkeling Tour in Los Cabos.
Snorkeling with Whale Sharks (Click here for further Information)
Or why not snorkeling with a Whale Shark in la Paz? This incredible Adventure starts from your Hotel in Cabo and takes you to La Paz. Hop on board and head out the Sea of Cortez. Jump into the water with Whale Sharks and get a real close look of those huge and gentle Giants. An Incredible Adventure that will create memories that will last forever.
Snorkeling with Sea Lions (Click here for further Information)
How about a Snorkeling with Sea Lions Adventure? This also is a Fantastic Snorkeling Tour which takes you to the capitol of Baja California South, La Paz. Hope on board and off you go to the Island of Espiritu Santo in the Sea of Cortes for your snorkeling Adventure with real life Sea Lions. This also is an incredible adventure that is something special for every Snorkeling Fanatic.
Snorkeling in Cabo Pulmo National Park (Click here for further Information)
A real off the beaten part Snorkeling Adventure in Cabo Pulmo National Park, the variety of Tropical and colorful Fish, Coral Reefs and even Bull Sharks and Turtles is tremendous for snorkeling fans. If you are a passionate Snorkeling professional this is the place for you.
Frequently Asked Question Snorkeling in Cabo
Question: I am not a good Swimmer; can I still go?
Answer: Yes. You wear a life jacket; all you need to do is kick your feet. Very easy, even non-swimmers can enjoy snorkeling (as long as you're not afraid of the water).
Question: How are the water temperatures for the snorkeling?
Answer: The lowest temperature is 65 degrees in the early Winter Month and in Summer Water temperatures are in the mid-80,s. Water is comfortable all year long for Water Activities.
Question: How far is the Snorkeling Spot?
Answer: Pelicans Rock is located close the Arch of Cabo San Lucas; it is very close to the Cabo San Lucas Marina and very quickly reached by Boat in less than 10 minutes.
Question: Is it not dangerous to snorkel in Cabo?
Answer: You will be snorkeling in the area where the largest variety of Tropical Fish are, it is not dangerous and no threatening animals are in that area. Follow the instructions of the Tour Guide at all times.
Question: I wear prescription glasses, can I still Snorkel?
Answer: Please visit your local dive shop at home and pick up a special insert that will allow you to wear your glasses while snorkeling. There are no prescription masks because everyone's prescription is different.
Question: How is visibility?
Answer: The visibility will vary depending on your snorkeling location, the time of the year, and the weather. To give you a general idea, expect visibilities between 25 and 40 feet from January through March, 25 to 60 feet from March to June, and 25 to 100 feet from July through December. Have in mind that when snorkeling, your depth will only be between 5 and 20 feet in most cases.
Question: Is this Tour in English?
Answer: Yes, the guides speak English and Spanish.
The five best snorkeling tips: All it takes is to follow simple tips to be snorkeling like a pro!
1. Find the perfect fit for your mask
First things first – fit the mask over your eyes and strap the elastic over your head. Make sure there are no twists and that the straps are flat above your ears. Don't wear your mask strap at the base of your head as the mask can slip out of place and cause water to seep in. The mask strap should fit snugly around the widest area of your head. This is one of the most important tips for snorkeling to remember. There are ways to ensure your mask fits your face properly before heading out. Press the mask to your face and breathe in through your nose slightly. If the mask fits snuggly to your face once you let go, that's a sure sign you've found the right size, but don't fasten it too tightly to your face either. A mask that is too tight can cause a headache, or general discomfort, and besides, the pressure on the mask once you hit the water helps it to stay in place. Keep in mind that mustaches and hair can also get in the way of proper fitting of a snorkeling mask. Brush your hair away and out of your face to avoid leakages, which can be slow and steady. The 'mask test' is important because it helps to ensure water will not leak in while you're snorkeling. Our Snorkel Guide will assist you in the process.
2. Defog your mask with baby shampoo or defogging gel
Defogging your mask is perhaps the single most important skill to know as a beginner – the condition of your mask can make or break your experience. Most skilled snorkelers recommend baby shampoo as a defogging solution. There are also gels which are often sold at resort or dive shops which work well to keep your mask from getting fogged up. Remember, when snorkeling, optimum visibility is key. Defogging solutions work by creating a layer between the air moisture in your mask (your breath) and the glass of the mask itself. Our snorkeling Guide has taken care of the defogging for all of our participants and Snorkel Masks.
3. Get excess water out of your mask when needed
One of the most important things to learn about snorkeling is how to get water out of your mask. It is better to learn this before getting into the water. There are various techniques to keep your snorkeling mask from getting filled with water, although it is completely possible to clear the excess water from your mask under water if you wish. Remember, if your mask fills up with water, don't panic. You can always surface to get the water out.If you're in a situation where you've spotted something amazing and don't want to risk losing sight of it, you'll need to learn how to quickly clear your mask under water. To get the water out, pull the bottom of the mask away from your face and blow outward. Keep your breathing normal, make sure you're comfortable and relax. Before you submerge again, check if your mask is leaking. Always make sure that your mask is fitted properly!
4. Preserve energy with full-foot fins
There's no question that fins add to under water mobility making the experience a more dynamic one. Newbie snorkelers will find themselves having to choose from full-foot or adjustable fins. Full-foot fins are often the recommended choice for beginners; ensure you find the right fit before you set out. Steer clear from fins that are too tight, too loose, or too painful. Once your fins are on securely, slide into the shallow end of your practice pool, or do the 'moon walk' carefully across the sand into the ocean to an area where water is waist deep. It's always a good idea to go for a trial run before making the rounds underwater. Our Snorkel Guide will make sure you have the correct Fins for your underwater Adventure.
5. Take deep focused breaths to help yourself relax
Deep breathing is the key to life… or at least it is when scuba diving or snorkeling. Breathing can be limited through a snorkeling tube, so it's important to take deep focused breaths, which can help you relax.
Do and Not to do for first time snorkelers
Don't touch the coral. Coral is a living organism – don't stand on them, and try to look down while you're trashing about to stay afloat to ensure you're not kicking anything you shouldn't be. Also, try to avoid standing on any rocks. What you perceive as a rock, may actually be a vulnerable underwater organism.
Use biodegradable sunscreen – it's better for the eco system. The National Centers for Coastal Ocean Science have listed oxybenzone and octinoxate, two ingredients commonly found in sunscreen, as harmful to coral reefs and sea life. Sun screen chemicals such as these can contribute to coral bleaching. Other potentially harmful ingredients to watch out for are PABA, octocrylene, avobenzone, homosalate, 4-methylbenzylidene camphor or butylparaben (a preservative). In general, steer clear from sunscreens which contain oils and potentially harmful chemicals.
Don't interfere with the sea creatures or other marine life as this could be hazardous. Some species are poisonous, and some may react defensively causing injury to you, or to themselves.
Respect other people's personal space – even underwater. As excited as you may be, and as much as you might want to reach out to the person next to you to ensure they see the spectacular lion fish just sailing by, not everyone appreciates the intrusion.
Don't feed the fish – they're quite alright without your help. Doing so can throw off the natural balance of things. To share is to care, but interfering can cause problems in the long run.
Practice reef etiquette. Snorkeling is great for acquiring knowledge on marine life, so take in the sights and sounds. Make mental notes for later.
Don't take anything home with you – that goes for starfish, sand dollars, coral fragment (even if they appear dead), sea urchins or shells. It is illegal in some places to acquire conch or lobster while diving. Penalties are stiff for people caught doing so, so avoid this at all costs.
Safety Precautions for Snorkeling
Important: Accidents are avoidable if you stay alert and informed.
It can be hard to find accurate tips for snorkeling that don't scare you out of getting into the water, but it is important to be informed. Most of the dangers of snorkeling have to do with people not following the rules. This can be you, or others around you, but it pays to stay alert.
Always wear a life vest, listen to your guide, and you will have an awesome time."
Pay attention – Photos and videos are all well and good, but try to avoid doing this during safety instruction sessions. It is important to create memories but it is more critical to be safe. Your Snorkel guide will take plenty of Go Pro Photos of your adventure and the Photos are included.
Use safety equipment – It is highly recommended that all snorkelers use floatation devices. Inflatable vests for example, aren't only for people who don't know how to swim – they can save your life if you get tired. Some vests come with features that allow them to be inflated by mouth for added buoyancy. There is also a release valve which allows snorkelers to dive to the bottom to get a closer look at fish and other marine life.
Never snorkel alone – Having a partner is recommended for beginners, and even advanced snorkelers. A snorkeling buddy enriches the experience – they're also right next to you if something goes wrong. Your Guide and safety crew is also pending.
Look but don't touch – Think of your experience as a virtual tour. Don't touch the marine life, and definitely don't try to take anything home with you.
No sinking, swimming only – Basic but formal swimming lessons may be necessary to make the most of your snorkeling experience. Floatation devices like inflatable vests are recommended. Water noodles can also be a fun floatation device for snorkeling in an informal setting.
Know your equipment – Practice in a swimming pool if necessary, as practicing beforehand with your equipment helps build up your confidence. If you don't have access to a pool, somewhere shallow with calm water is good for practice as well.
Weather conditions matter – Check the weather forecast before heading out. Optimal conditions for snorkeling are calm, smooth seas. Keep in mind that as the hours go by, weather patterns may change. Even with sunny predictions, it's important to check for yourself whether waters are conducive for snorkeling. If you take a break for lunch, ensure that waters are conducive before resuming your snorkeling session. Our Snorkel guide and entire crew and office are pending about the sea conditions, if deemed no appropriate or dangerous we advise you prior to your Tour and change the day.
Know your location – Learn as much as you can about your snorkeling destination. During your snorkeling tour be sure to come up for air frequency to see what's happening around you. This can also help you keep track of your location as tides can pull you out to sea. Watch your surroundings and ensure there's not a lot of wave action. Follow all safety regulations, and be vigilant. Your Snorkeling guide will also be pending and accompany you.
Know your limits – Once you get out into the ocean, remember; it's important not to over extend yourself. It's a new experience; take it one step at a time. Some first-timers have reported not finishing the snorkeling course as a result of being too overwhelmed. If you are too tired to finish, or just don't feel comfortable, indicate that to your tour guide. If you're on a private trip with a snorkeling buddy and feel tired, let them know and make your way back to the boat together.
Undersea dangers – The scariest things to look out for include sharks of barracudas, but at Pelicans Rock it is unlikely you will encounter any of these. Find out more about the commonly spotted wildlife before choosing a location. Other potential dangers include lion fish, an invasive predatory species form the Indo-pacific, and jellyfish. Lion fish are usually harmless and sting only in defensive situations. They can appear scary to first timers, and they have venomous spines which can be dangerous if you get too close. Jellyfish on the other hand travel frequently in schools. Stings can cause small itchy welts. Large jellyfish tend to be more dangerous but are not commonly spotted on snorkeling expeditions.
Secure your belongings – Whether you leave your personal items on a boat or on the beach, ensure your belongings are in good hands. Most resorts will let you leave these in the dive shop, or in a safe location on the boat. It is best to keep valuables at the Hotel and inside Your safety Deposit Box!
Why this Los Cabos Snorkeling Tour and not another?
Free Roundtrip Transportation Included

Free Photos (Value of 50 to 80 Usd with other Snorkeling Tour Providers)

Free Souvenir Snorkeling Tube, Not sharing with others

Professional and dedicated Snorkeling Guide

The Location for Snorkeling

Shopping and free time included

Flexible Returns

Unbeatable Value and Inclusions

Safety, Quality and Service
What may I see during my Snorkeling Tour?
Sea Turtles

Surgeon Fish

Parrot Fish

Angel Fish

Moorish idols

Rays

Sea Lions are very close by and chances are also good

Other rare species of Tropical Colorful Fish
How is the Visibility at Pelicans Rock?
With shallow waters and great Sunshine visibility is Fantastic almost throughout the entire year. Its almost like diving into a well kept Aquarium.
Do I need to be an expert to participate in this Snorkeling Tour in Cabo?
No need to be an expert for this Los Cabos Snorkeling Adventure. there are a number of reasons for this;
Swim Vests that keep you floating

A professional Snorkel Tour Guide that takes you by the hand if needed

Safety and support everywhere

If the Sea conditions are rough the Tour gets suspended, it almost never happens though.

Experienced Snorkelers and guides to assist whenever needed

Boats just right outside the Snorkeling area are waiting for people
How are the Water Temperatures throughout the Year? Is it cold?
68 Degress is the coldest reported water temperature in Los cabos usually during January and Febreruary. In the summer month it goes up to 86 Degrease. For the locals the 68 degrees may be on the cooler side, but for anyone else that come from colder climates is almost bath tub water.
Are there any dangerous Animals that I have to worry about?
Fortunatley you have not be worried about any dangers on behalf of Animal Life in that Snorkeling Spot. No sharks or other potential dangerous Animals are at Pelicans Rock.
Additional Information about The Los Cabos Arch and Pelicans Rock.
Located off the coast of Cabo San Lucas, Pelican Rock features dramatic rock formations and a small, gravelly beach that's often crowded with snorkelers, swimmers, scuba divers, and cliff jumpers. This protected spot at Land's End is famous for its abundant wildlife, both above and below the ocean's surface, and popular with Los Cabos snorkeling tours. Once you're in the pristine marine meadow, strap on a snorkeling mask to take in the incredible submarine views. Eye the sea lions or the fish, count the flashes of tropical color, or perhaps discover a new species in the mix.
Pelican Rock is only reachable by boat, and most visitors arrive as part of a guided snorkeling or kayaking tour, in your Excursion a visit to other must-see Land's End attractions, such as the Arch of Cabo San Lucas (El Arco), Lover's Beach, Medano Beach, and the area's resident sea lion colony are included. We suggest the early hour time to avoid larger crowds.
Restrictions
Must climb stair submerged into water minimum age 6 years Expecting Mothers Heart, Back or Neck Problems Osteoporosis non swimmers
Your adventures includes
Roundtrip Transportation Certified Tour and Snorkel Guide Bottled Water 45 Minute Glass Bottom Boat Ride Guided Snorkel Tour Use of Snorkel Gear Deli Style Baghuette Ham, Tuna, Turkey or Veggie Shopping Time Free Souvenir Snorkel Tube Free Photo CD
What to bring?
Bathing Suite Beach Towel Hat or cap , Sunglasses Sun Block change of clothing Cash for Tips and Souvenirs
From $87 to $109 USD 5 hoursEasyFamily Back problems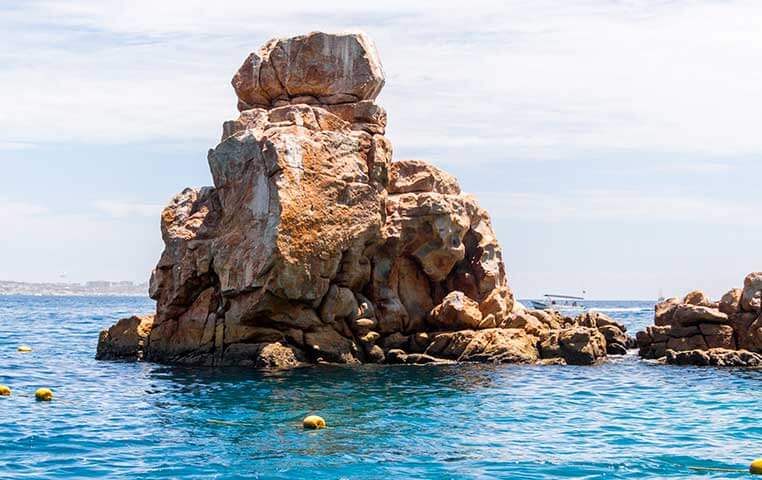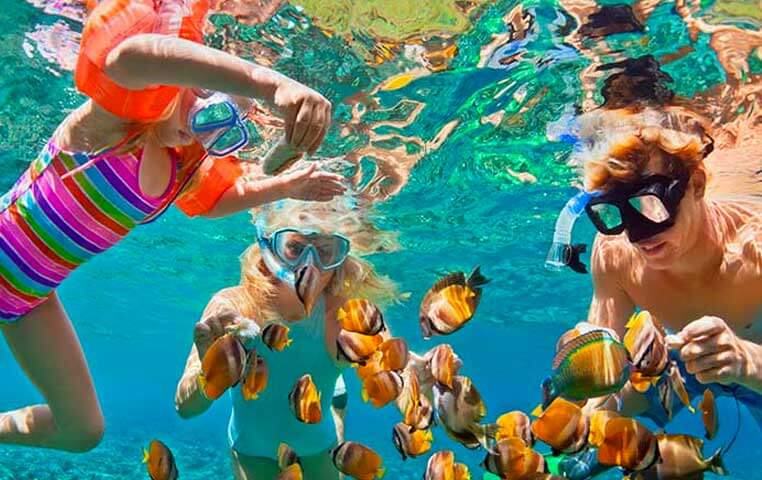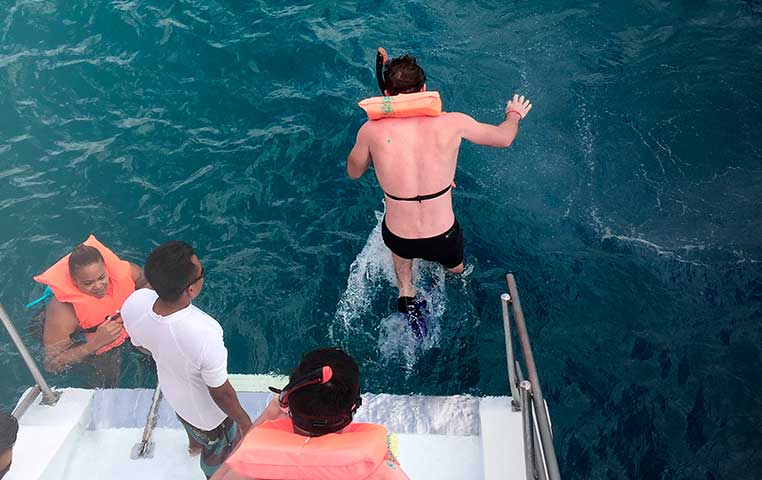 Do not forget to book your Airport arrival and departure transportation.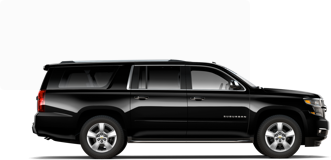 Los Cabos Private Roundtrip Transportation
1-5 passengers
Starting at
$145 USD
Los Cabos Private Roundtrip Transportation
1-10 passengers
Starting at
$140 USD