Explore Cabo San Lucas by Visiting The Arch - How to Get There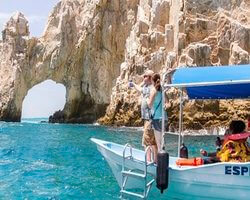 Looking for an exciting day trip while in Cabo San Lucas? Check out our guide to visiting The Arch and learn everything you need to know on how to get there.
Explore Cabo San Lucas by Visiting The Arch - How to Get There
Looking for an exciting day trip while in Cabo San Lucas? Check out our guide to visiting The Arch and learn everything you need to know on how to get there.
The Arch in Cabo San Lucas is one of the most breathtaking natural wonders of the region, and a must-see for any traveler. Learn how to get there with our comprehensive guide, including tips on transportation, safety, and other helpful information you need to make your visit an unforgettable experience.
About the Main Attractions by the Arch and Cabo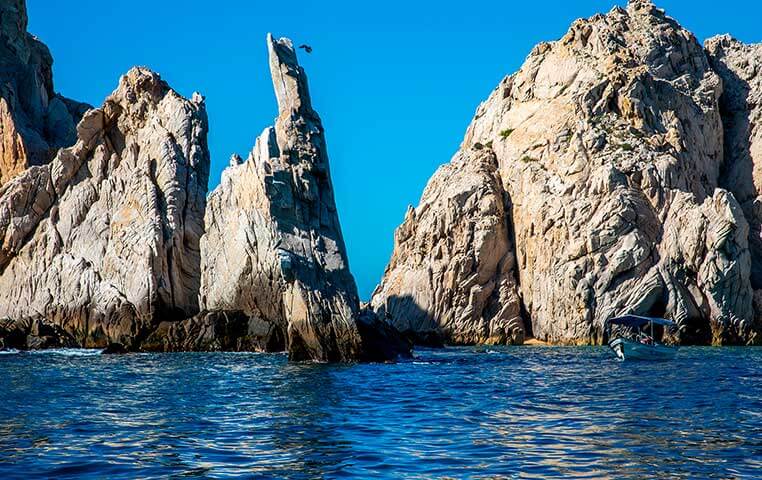 Los Cabos Arch, The Arch of Cabo San Lucas, is a distinctive rock formation at the southern tip of Cabo San Lucas, which is itself the extreme southern end of Mexico's Baja California Peninsula. The arch is locally known as "El Arco," which means "the arch" in Spanish, or "Land's End. It is here that the Pacific Ocean becomes the Gulf of California. This area is widely used in hotel advertising in the Los Cabos Corridor. This spot is a popular gathering area for sea lions and is frequented by tourists. It is three stories tall and was formed from natural erosion. The Arch of Cabo San Lucas is adjacent to Lovers Beach on the Sea of Cortez side and Divorce Beach on the rougher Pacific Ocean side. The Arch is accessible by land only if you approach it by placing yourself at the beach of the last hotel on the Pacific (Lands' end), you would have to climb some very big rocks not very safe, once you do that, you will be at the very tip of the peninsula and a few steps from El Arco. Basement rock in Los Cabos formed through intrusive igneous processes c. 115 million years ago, during the Cretaceous period. For your tour you are using a much safer way, a Boat.
Lovers and Divorce Beach, Lovers Beach is a beautiful beach located on the Sea of Cortes side of the Arch, fantastic white sand, beautiful crystal-clear blue waters and one of Cabos Main Attractions. On Lovers Beach explore the San Andres cove or walk over to the Pacific side of lands' End, the Divorce beach, the contrary to Lovers Beach, tremendous waves and undertow, very rough and dangerous yet beautiful not getting too close to shore.
Pelicans Rock, Los Cabos best and most popular Snorkeling spot with thousands of colorful tropical Fish, during may of the small Boat Tours and Glass Bottom Boat Tours you will look at a large variety of Tropical Fish through the Glass Bottom of your Boat, a must do stop in Cabo. Pelicans Rock is famous for Snorkeling due to the tremendous variety of Sea Flora and Fauna.
Sea Lions Colony, Meet the California Sea Lion; on quiet evenings and early mornings, sitting on a little balcony of a Marina Apartment, you can often hear the barking of the sea lions in the marina, almost a kilometer away. What a happy sound! Sea lions are very intelligent and playful and encountering them in the water, their natural environment, is always exciting and fun. Scientific name: Zalophus californianus. Zalophus (Za – in Greek intensive, Lophius – crest, referring to the Sagittal Crest of males, distinguishing the genus). Californianus (specifying their geographic breeding areas). Family – Otariidae (Eared Seals). The California Sea Lion is an air breathing, warm blooded, milk sucking marine mammal that, surprisingly, descended from the family of the bears. As part of the Pinnipeds clade, they are very similar to seals, but have some distinctive features. They are a part of the Eared Seals family, along with Fur seals and other sea lion species, as they have external ear flaps. They also have longer flippers, which allows them to 'walk' on land, though it looks more like they are dancing. Another interesting 'move' the sea lions can do is to bend their necks all the way to their hind-flippers, thanks to their extra flexible spine. This gives them the ability to turn abruptly when swimming in the water, all while maintaining hydrodynamics. Female California Sea Lions are light-chocolate brown in color, have a flat head, can grow up to 2 meters/6 feet and weigh up to 110 kg/250 lbs. Males are dark brown to black and have a big hump on their forehead called the Sagittal Crest. This protruding hump makes it easy to differentiate between males and females along with their size. Males can grow up to 2.5 meters/7 feet and weigh 520 kg/1150 lbs or more. That's almost 5 times more than females! Right beside the Arch is the Los Cabos Sea Lions Colony and its part of your stops during your Adventure.
Boat Tours in Cabo San Lucas
Choosing the best option for your Boat Tour to The Arch of Cabo San Lucas will become easier for you reading my post, I will cover from the most economic Boat Tour in Cabo to the Ultimate Luxury Boat Tours in Los Cabos. You always get what you pay for, remember the more economical the experience is the less you are getting for your Buck.
Glass Bottom Boat Tour in Cabo San Lucas
The most economical way to visit the Arch of Cabo San Lucas is on a 45-Minute Glass Bottom Boat Ride to explore the Arch in Cabo San Lucas and Lands' End. It does not include Food or Drinks; the Boats are basic and also called Water Taxi in Cabo San Lucas. The going rate is anything from 15 Usd per person up to 60 Usd a Person, depending on if you want shade, you prefer being picked up at your hotel and the quality of the Glass Bottom Boat. The Adventure is popular in Los Cabos and the Boat Captains, after your Tour around the Arch in Cabo San Lucas, are open to let you jump off the Boat at Lovers Beach for free time and return for you at a later agreed time. It depends on the Sea Conditions that specific day and it is not always possible. You have to consider that there is no Bathroom available on the Boat or Lovers Beach and we recommend using a reputable company that count passengers and have control of the participants in their Tour, it happens that people get stranded on Lovers Beach having to negotiate with another Boat the price for their return. Swimming and Snorkeling in the area without a certified Snorkeling or Diving Guide can be dangerous we recommend getting and adventure with a Guide with proper safety measures.
Catamarán Tours in Cabo San Lucas
Another option to visit the Arch of Cabo San Lucas is a Catamaran Sunset Cruise in Cabo San Lucas or a Catamaran Snorkeling Tour in Cabo. Both will stop at the Arch in Cabo San Lucas for stunning Photos and to visit the Sea Lions Colony with Information about the area. The variety of Catamaran Sizes and Cruises in Los Cabos is large, and pricing is anywhere from 79 Usd to up to 149.00 Usd per person. Pricing in Catamaran Cruises define the quality of Drinks and Food you are getting, the service level and the quality and size of the Catamaran Boat. The cheaper the price the less you are getting for your Money. All Catamaran Cruises include national open bar, this means you are getting Beer, Rum, Tequila, Whiskey and Vodka and of course all sorts of mixed cocktails with those Liquors. The difference in pricing are the brands of Liquor and Beers you are getting. Do not expect good brand names and tasty cocktails in a 79 Usd Sunset Cruise. The same applies for the Food Choices, it is anything from Mexican Buffet, just snacks to a Fajitas and a Full BBQ on board, even up to a 3 Course Dinner with Filet Mignon or Lobster. Pricing also defines the level of service you are getting, the less you pay the less staff is on Board, the longer you wait to get a new drink and your Food. For the quality and comfort is also something you should consider paying a bit more, the less you pay, the smaller and older is the Boat.
Sailing in Cabo San Lucas is very popular and many choose the Sailing Experience to explore the Arch in Cabo San Lucas and the Sea of Cortes. You have the choice of Snorkeling Adventures with Paddle Boards or Kayaks or a nice Sunset Sailing Tour in Cabo. You can go on a shared or a Private Sailing Tour. There are Premium open Bars with quality Brand Liquors to regular national open bars with low-cost brand liquor. You can also Charter a Sailing Boat in Cabo without Food or Drinks. You are able to find older not very luxurious options to Luxurious French made Sailing Boats. Shared Sailing Tours start at 99 Usd per person and can go as high as 165 Usd per person, Private Sailing Boat Adventures can range anything from 650 Usd to up to 1200 Usd for up to 4 people and additional costs for extra passengers. Most Sailing Adventures do not include transportation and you need to set this up with additional costs. Sailing Adventures last up to 4 hours for snorkeling Tours and usually 2.5 hours for Sunset Tours. In Private Options you can purchase extra hours. The wind on the Pacific Ocean site of Lands' end is great for Sailing and you will experience the pleasure of being inclined and listen to the sound of the Sea Breeze only. Here the same rule applies, the less you pay the less you will get out of your experience. Cabo San Lucas has a huge variety of Sail Boats, choose wisely with a reputable company.
Private Yachts in Cabo San Lucas
Cabo San Lucas is a premier Vacation Destination; this is why the variety of Luxury Yachts is quite extensive. If you do your math a Private Yacht in Cabo can even make financial sense many times. For a larger family of 10 or more the price per person could be perhaps double of the price of a Public Shared Boat Tour, but you are getting Hollywood service and Luxury, Premium Open Bar, Premium Food and white glove service and attention. Apart of course the magnetism and looks of many while you are exiting the Cabo San Lucas Marina. You can get a Private Luxury Yacht in Cabo San Lucas for as low as 1300.00 Usd to up to 10,000 Usd. Here also the regular Day Trip time is 4 hours and the going Sunset Tour time is 3 hours, you can add on hours for a reasonable price of 250 to 500 Usd, depending on the size of the Yacht. The quality of Drinks and Food, the service and the all over experience is great in all of them, the price is determined by the size of the Boat and the level of Luxury on Board.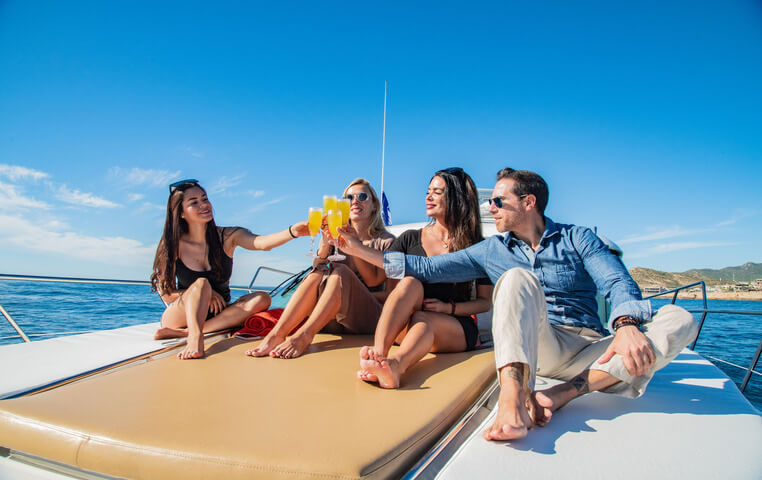 Your choices are easy to be defined; choose if you would like to do a Day Tour or a Sunset Tour, Choose the type of Boat, choose if you prefer a good drink and delicious food or even if you prefer Premium and White Glove. One thing is certain, you will visit the Arch of Cabo San Lucas and the Money you spend will determine your final experience. We wish you a pleasurable experience in Paradise, and whatever your choice will be it will be the correct one for you and you will have a fantastic experience in Paradise.
Purchasing tickets or making reservations for a tour of The Arch.
If you want to explore The Arch and its iconic rock formations, the best way to do it is by taking an organized tour. There are many tour operators that offer packages that provide round-trip transportation, as well as a knowledgeable guide who can help you learn about the history and culture of the region. Before planning your excursion, make sure to purchase tickets or make necessary reservations in advance so that your journey can go off without a hitch.