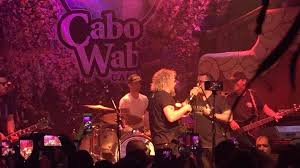 Los Cabos and specifically Cabo San Lucas are showcasing a large number of Bars, Discos and Night Life Spots that are recognized in the entire world. Partying in Cabo is something you can do 24/7 and in incredible places with incredible equipment and ambience. Night Life takes place in and around the Cabo San Lucas Harbor Area and go nonstop all night long. The absolutely must do Night Life Spots are;
Los Cabos and specifically Cabo San Lucas are showcasing a large number of Bars, Discos and Night Life Spots that are recognized in the entire world. Partying in Cabo is something you can do 24/7 and in incredible places with incredible equipment and ambience. Night Life takes place in and around the Cabo San Lucas Harbor Area and go nonstop all night long. The absolutely must do Night Life Spots are;
1.
Cabo Wabo Cantina
, live music and entertainment on the stage at the Cabo Wabo has hosted Top Celebrities and Musicians from all over the world. The Restaurant serves great food and is open for lunch and dinner 7 days a week. Seafood to Mexican food, from DJ to live band, from Cerveza to Tequila, from bar to rooftop, You have plenty of reasons to make the Cabo Wabo Cantina a must do stop in Cabo.
2.
Gigglin Marlin
, open since 1988, usually things start out quiet in the morning. This is a great time for a seafood omelet, Eggs rancheros or the Bloody Mary the doctor prescribed. By night time the place is packed most days of the week, so if you plan on staying late, plan to go early.
3.
Squid Roe
Established in 1989 is the largest Bar and Disco in town. Made up of three floors with five full bars, a clothing store, a full kitchen, private VIP areas, & more. Squid Roe has attracted the likes of Beyonce, U2, Floyd Mayweather, Tupac, Emmitt Smith, Snoop Dogg, Drake, Rihanna, Jamie Foxx, Oscar De La Hoya, Alex Rodriguez, Tony Romo, 50 Cent, and many other celebrities.
The party must go on, visiting all 3 places during Your vacation in Los Cabos is a must do and should be part of Your itinerary. See you soon in Paradise, For
Tours and Transportation
please visit our Website.